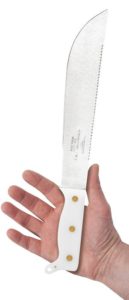 We're goin' to the moon! It's not often that you can say your knife was designed for space travel. The Case Astronaut Knife M-1 Commemorative is celebrating the 50th Anniversary of our first steps on the Moon. It's a reproduction of an iconic knife that went above and beyond with astronauts during NASA's Gemini and Apollo missions. If it's good enough for our astronauts, it's good enough for earthly tasks.
The M-1 Commemorative is basically an awesome space machete. The Tru-Sharp stainless-steel blade is almost a foot long and it features a double row of saw teeth on the spine. The durable synthetic handle features brass pins and a lanyard hole. It also comes in a two-piece presentation box with a certificate of authenticity.

There are a couple of interesting design choices to note about the M-1. The blunt base of the blade was designed to be used for prying which adds an extra layer of versatility. If you were wondering what business a machete has in space, well that was more important to astronauts when they got back to earth. The M-1 was carried to serve as a survival knife in the event that the astronauts veered off course and landed in a jungle or forest when coming back to Earth and needed something to help with chopping through thick brush.
Case Astronaut Knife M-1 Commemorative Details
Tru-Sharp Stainless Steel, Satin Finish
11.75" Machete Blade
Full Tang
Synthetic Handle
17" Overall
Made in the USA
The Case Astronaut Knife M-1 Commemorative is an awesome collectible and a formidable tool for under $190. How you use it is up to you. Own your very own slice of NASA history by clicking any link in the article or the button below.


All images courtesy of Case and Smoky Mountain Knife Works – smkw.com.