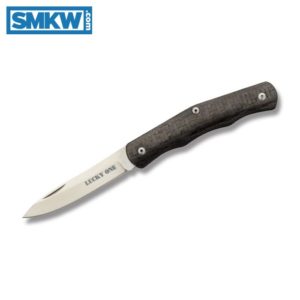 We love Cold Steel for a variety of reasons. They're fun, sturdy and just all around awesome. Their big, beastly knives can probably chop a tire in half or fight off a band of ninjas. Did you know Cold Steel also has a couple of traditional pocketknives in their lineup? The Cold Steel Lucky is a modern twist on a two-bladed traditional folder. The Cold Steel Lucky One might be able to whittle your opponent down to small, microscopic pieces. It would do it comfortably and with style. This small, single-blade traditional slipjoint weighs just an ounce. It's easy to carry just about anywhere, any time. They'll never see you coming.
It has a satin finished 2.62″ S35VN stainless steel drop point blade.  The handles are contoured polished carbon fiber which keeps the weight down and provides a great grip. If you're a traditional pocketknife aficionado, the build on this knife is almost impeccable. The detente is perfect with an opening that is smooth and easy. Half stops provide a bit of extra security and the blade almost perfectly lines up with the perfectly smooth steel backsprings. As a last touch of modernity, it has a removable tip-up pocket clip.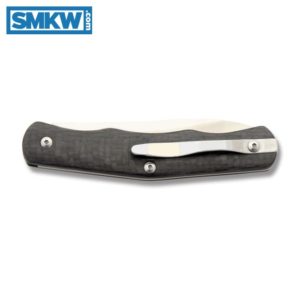 Cold Steel Lucky One Details
CPM-S35VN Stainless Steel, Satin Finish
2.62" Drop Point Blade
Carbon Fiber Handle
Nail Nick
Tip-up Pocket Clip
Weight: 0.9 oz.
3.25" Closed
5.87" Overall
You can go stealth-mode with the Cold Steel Lucky One for about $80. It's a fabulous knife that's perfect for anyone who wants a traditional slip joint made with modern, high-end materials. Check it out by clicking any link in the article or the simply clicking the button below.


All images courtesy of Smoky Mountain Knife Works – smkw.com.