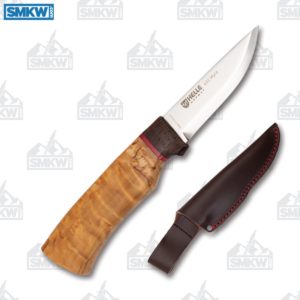 The Helle 632 Myra is a limited edition and the first in an annual series of knives that honors the legacy of Helle knives. Not only is it extremely well made, it's gorgeous enough for both a display case and durable enough to make an excellent EDC.
This limited edition comes during a time of change for Helle. A new generation is taking over as former Director Torodd Helle is stepping down. He has, however, helped develop this Myra. He said it "brings together much of what Helle has developed into during my 40 years with the company – the traditional Nordic design emboldened by modern details from the new generation." This is also the only Helle knife in production that bears the model number on the blade. It is notable because the "32" is the year that the original Helle factory was founded, and the name Myra is the local nickname of the farm where the founders grew up.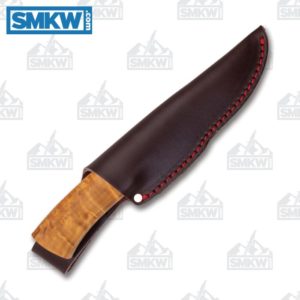 The Myra 632 features a mirror polished, three-layer Helle laminated steel blade that is perfect for both carving and slicing. Like most Helle knives, the core layer is designed for razor-sharpness and the two outer layers to add strength and flexibility.
The handle on this knife is amazing. It is made from Helle's signature curly birch that has been used for generations. It features a red leather spacer and a darkened oak bolster. It's smooth, light, and ergonomic. The leather belt sheath for the Myra 632 really stands out with red stitching.
Helle 632 Myra Limited Edition Details
Triple Laminated Stainless Steel, Mirror Polished
2.83" Drop Point Blade
Curly Birch Handle, Darkened Oak Bolster, Red Leather Spacer
Leather Sheath with Belt Loop Attachment
1.9 oz.
6.75" Overall
Made in Norway

Helle will continue to produce a limited edition knife each year from here on, and this Helle 632 Myra is leading the way. There are only 250 pieces in this limited production run so make sure you get yours before they're gone. To get this knife, click any link in the article or simply click the button below.

All images courtesy of Smoky Mountain Knife Works – smkw.com.