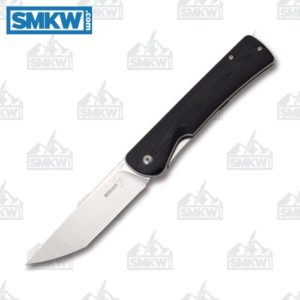 The Boker Plus Komusubi is a budget-friendly, modern front flipper with an opening that's smooth like butter. The handles are clean and elegant. The overall profile is wickedly sleek. At less than $45, we think it's a great knife for the price.
Much as the name implies, the Komusubi has a 3.75" 440C Japanese-inspired Tanto point blade with a satin finish. The blade thickness is about 0.10, which gives you a fair amount of spine to support the high flat grind without adding too much bulk to the edge. You can almost feel this knife itching to slice through your morning packet of doughnuts.
Mounted on skeletonized steel liners, the contoured G-10 handles feature a recessed cutout at the linerlock. This makes disengaging the lock one handed incredibly easy. The front flipper opening is super smooth with a ball bearing pivot. We freely admit the front flipper opening takes a second to get the hang of, but once you do it's a very smooth, controlled open. Finally, this knife comes with a hidden lanyard slot. We're fans of the hidden lanyard because it lets us add bling to our knives without adding unnecessary bulk to our pockets.
Boker Plus Komusubi Details
440C, Satin Finish
3.75" Tanto Point
0.10" Blade Thickness
Flat Ground
Linerlock
G-10 Handles
Tip-Up Pocket Clip
Hidden Lanyard Slot
5.1oz
4.75" Closed
8.5" Overall
For a great look and a fantastic slice, the Boker Plus Komusubi is absolutely worth every penny of the $45 you'll spend on it. To get this knife, click any link in the article or simply click the button below.


All images courtesy of Smoky Mountain Knife Works – smkw.com.