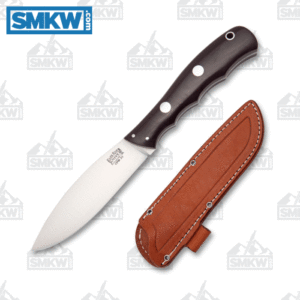 It's no secret that Bark River makes a danged fine knife. Know what else isn't a secret? That the Bark River Knives Canadian Special is owner, Mike Stewart's favorite knife. Rumor has it this knife was designed to fit perfectly in his hand. Not only does it fit perfectly in his hand, it fits so perfectly in many hands that it's one of Bark River's most popular models.
This fixed blade is like the Goldilocks of hunting knives. It's inspired by the Canadian belt knife, but with a slightly modified design. There's less hump in the spine, and the handles aren't quite as off-set as a traditional Canadian belt knife which makes it more versatile. It's not only a great skinner, it's perfect light woodworking and making tender. And, when it comes to food prep, it's a beast.
Depending on which model you choose, the Bark River Canadian Special features a satin finished 4″ drop point in either A2 tool steel or S3V stainless-steel. The handles have four finger grooves and  a skinny neck that swells towards the pommel. The handle gives you a ton of control when doing fine detail work, and it's comfortable, even after extended use.
Whether you go with the canvas micarta versions or the bocote wood versions, the fit and finish is bound to be absolutely flawless.  Finally, this knife comes with a high-quality leather belt sheath with a ferro rod loop.
Bark River Knives Canadian Special Details
A2 Tool Steel, Satin Finish
4" Drop Point Blade
Full Tang
Canvas Micarta or Wood Handle
Lanyard Hole
Leather Sheath
5.75 oz.
8.75" Overall
Made in the USA
Like other knives from Bark River, the fit and finish are excellent and it takes just a moment with one of these in hand to see the attention to detail and precise craftsmanship that goes into these. The Bark River Knives Canadian Special is available from $190 to $225 based on the model you select. Check them out for yourself by clicking any link in the article or the button below.


All images courtesy of Smoky Mountain Knife Works – smkw.com.