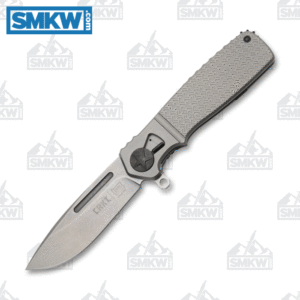 CRKT just turned 25 years old this year and they are celebrating. Big time. They've released a run of the Ken Onion designed CRKT 25th Anniversary Homefront and it's amazing. It still has the Field Strip technology and basic design of the original award-winner but with a few really nice upgrades for this special occasion.
The 25th Anniversary Homefront is limited to 500 pieces and features a premium 3.469″ M390 drop point this time around. They added a fuller to reduce the weight, improve the balance, and make it more badass. Each blade is serialized and has a 25th anniversary blade etch. They also changed up the lock from a liner lock to a framelock. But wait, there's more! This 25th Anniversary Homefront swaps the previous GRN handle scales with durable, lightweight titanium.
If you're not up to speed on how the Homefront's Field Strip Technology works, it basically allows you to take the knife apart into three pieces and get it cleaned up without the need for any extra tools like screwdrivers or torx bits. "To disassemble, close the knife, push the front release lever up. Then spin the rear release wheel clockwise —once you feel the handle release, pull it up and away." It's perfect for getting dirt and grime out of the knife's interior on the go. It's that easy.
Click any thumbnail to launch a slideshow of larger images.
CRKT 25th Anniversary Homefront
M390 Stainless Steel, Stonewash Finish
3.465" Drop Point Blade
Flipper Opener
Framelock
6AL4V Titanium Handles
Tip-up Pocket Clip
Field Strip Technology
5.3 oz.
4.781" Closed
8.25" Overall
Made in Italy
We agree when CRKT says, "This is what a quarter century of Confidence in Hand looks like." The upgraded CRKT 25th Anniversary Homefront is a worthy representation of an already iconic design. Again, these are limited production knives so don't miss out. Check it out by clicking any link in the article or simply clicking the button below.


All images courtesy of Smoky Mountain Knife Works – smkw.com.