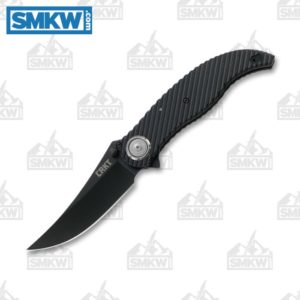 Designed by Austin McGlaun as part of the Forged by War program, the CRKT Clever Girl Folder takes the tactical elements of the original Clever Girl and makes it easier to carry. CRKT tells us, "With a black, powder-coated upswept blade, this is a knife that is all about function. It's here to protect you—be it in the field, on a mission, or in high stress environments." It might have a tactical purpose, but it also makes an amazing every day user with a truly gorgeous look.
First, we absolutely adore the lines of this knife. From the sweeping lines in the blade to the diagonal texture in the curvy G-10 handles, this knife seems to be in constant motion. Other than looks, perhaps the standout feature on this knife is the use of CRKT's Deadbolt lock.
We've written before about this amazing new tech from CRKT, but since we've all slept since then, we'll just remind you that this lock is extremely strong. It's literally impossible for the lock to fail without breaking the blade. It's also incredibly safe and easy to use.
CRKT tells us, "A prominent button sits at the pivot point for simple, intuitive disengagement without fingers crossing the path of the blade." If you can press a button, you can release the Deadbolt lock.
Above and beyond the look of it, the durability and user friendliness takes The Clever Girl Folder to the next level. It has an upswept 4.08″ black PVD coated D2 tool steel blade with forward finger choil and a discrete thumb ramp. The IKBS ball-bearing pivot assembly enables a fast and efficient flipper or thumb stud opening.
CRKT Clever Girl Folder Details
D2 Tool Steel, Black PVD Coating
4.084" Upswept Blade
Flipper/Ambidextrous Thumb Studs
Deadbolt Lock
G-10 Handles
Ambidextrous Tip-Up Pocket Clip
6.9 oz.
5.422" Closed
9.5" Overall
No doubt, the CRKT Clever Girl Folder is a welcome friend when things get dicey. It's also an incredibly strong, beautiful knife that is meant to be a useful tool. Just click any link in the article or the button below to check it out.


All images courtesy of Smoky Mountain Knife Works – smkw.com.