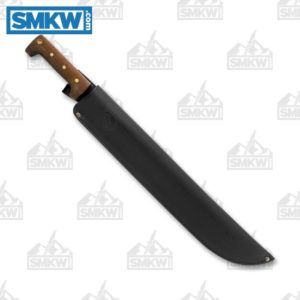 Who doesn't love a machete? It doesn't matter whether you're chopping your way through the jungle or just clearing the kudzu from your back yard. They're sometimes the perfect tool to get the job done. Wait, what? You've never used one? Are you kidding? Well, here are three awesome entry-level machetes all for under $100. Get one.
Gerber Compact Clearpath
The 18″ Gerber Compact Clearpath is a compact machete that excels at cutting through vines and branches in a controlled fashion. The 11.5″ corrosion-resistant stainless steel blade features a sawback spine, which can be used for sawing through small branches and more.
The rubberized GatorGrip handle provides a comfortable grip with few hotspots, even after extended use. As an added bonus, the orange accents add visibility which is great for when you're hip deep in the weeds.
Finally, this machete features a lanyard hole for attachments, and it comes with a nylon sheath. The Clearpath is the most affordable machete on this list, right at $20.
Gerber Compact Clearpath Details
Stainless Steel Blade, Corrosion Resistant Coating
11.5″ Blade Length
Rubberized GatorGrip Handle
18.7oz.
17.938″ Overall
Nylon Sheath

Cold Steel Kukri Machete
Cold Steel said it best with, "There are very few knives in the world that we can think of that can out-chop or out-cut a good Kukri." That's definitely true with the Cold Steel Kukri Machete. This inexpensive machete comes razor sharp straight out of the box. It's rugged and absolutely built for tough work.
It features a 13″ 1055 carbon steel blade with a great anti-rust matte finish. The polypropylene handle has an awesome grip and is made for durability, and it comes with a Cor-Ex sheath. It swings like a sword and makes quick work of anything you can throw at it. For less than $30, you can't go wrong with this one.
Cold Steel Kukri Machete Details
1055 Carbon Steel, Matte Finish
13″ Blade
Polypropylene Handle
16 oz.
18″ Overall
Cor-Ex Sheath
Made in South Africa

Condor Tool & Knife El Salvador Machete
Condor is known for making excellent knives and machetes. For less than $70, the El Salvador Machete features an 18″ 1075 high carbon steel blade with an epoxy black powder coating that helps it stand up to abuse and corrosion. This bad boy can handle a little ax work and works fine for batoning. The ergonomic walnut handle has triple rivets and a large lanyard hole. It includes a welted leather belt sheath.
Condor Tool & Knife El Salvador Machete Details
1075 High Carbon Steel, Black Powder Coating
18″ Blade
Walnut Handle
23″ Overall
Leather Sheath

A good quality machete doesn't have to cost a ton, and these three are a good place to start. See more about these entry-level machetes or get one for yourself by clicking any link in the article or the button below.


All images courtesy of Smoky Mountain Knife Works – smkw.com.