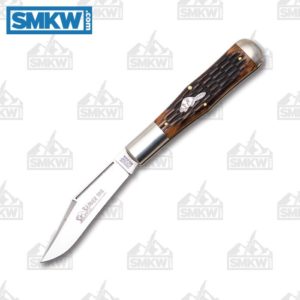 There's no denying that Great Eastern Cutlery makes some of the most celebrated traditional pocketknives on the market. Great Eastern excels at taking old patterns and revitalizing them with just a bit of a modern twist. The GEC 97 Allegheny pattern is no exception. This single-bladed large Coke bottle pattern comes in five different handle materials.
Each knife in this series has a 4.25" 1095 carbon steel Sabre clip point blade. They have brass pins and liners, as well as nickel silver bolsters. Each knife has half stops and opens with a forged straight pull. They're about 4.75" closed and each weighs about 4.5 ounces.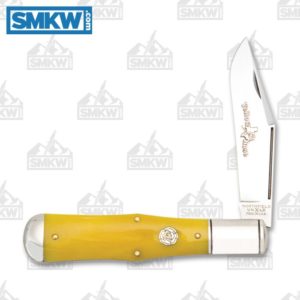 The Yellow Rose Bone 97 features bright yellow smooth bone handles. Great Eastern Cutlery doesn't release knives in this series very often, making this one of the more sought-after knives in their lineup. It has a nickel silver Rose shield and a Yellow Texas Rose blade etch. Unlike the rest of the knives in this pattern, this is a dual opener with both a forged straight pull and a nail nick.
The ever-popular Beaver Tail has the circled Triple-P etch on the back of the blade, indicating this is the Pattern Premier Plus edition. That means it's the first time they've run this knife in this pattern. It has Jigged Brazilian Cherry handles and the iconic Beaver shield. If you missed out on any of the previous Beavers, this is a great big beefy Beaver that's sure to bring a smile to your face.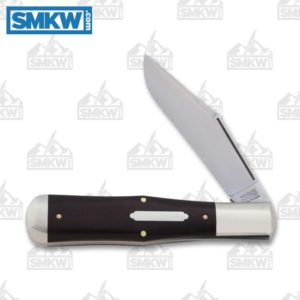 The Ebony Wood 97 has an incredibly refined, classic style. The swedged spine not only makes it look great, it adds flexibility to the mirror-polished blade. It also has lined bolsters and a keyhole shield.
We aren't ones to wax poetic about blade etches, but the Autumn Gold Jigged Bone 97 has a pretty blade etch. It reads, "Allegheny Belle Rivere" in a retro font that not only looks beautiful, it explains why they named this series Allegheny.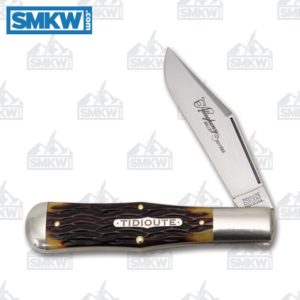 The old Tidioute factory was located near the Allegheny river. This knife has autumn gold jigged bone handles accented with a branded Tidioute shield.
Almost everyone loves micarta handles and the Maroon Linen Micarta 97 is no exception. These handles have a deep, dark reddish color that is almost but not quite black. Accenting all that rich color is a whimsical nickel silver hot dog shield. This sweet pocketknife has brushed satin bolsters and a mirror polished blade.
GEC 97 Allegheny Details
1095 Carbon Steel, Satin Finish
4.5" Clip Point Blade
Half-Stops
Forged Straight Pull
Brass Pins and Liners
Nickel Silver Bolster and Shield
Made in the USA
If you're a fan of traditional pocketknives, you can't go wrong with the GEC 97 Allegheny pattern. To get these knives, click any link in the article or simply click the button below.


All images courtesy of Smoky Mountain Knife Works – smkw.com.