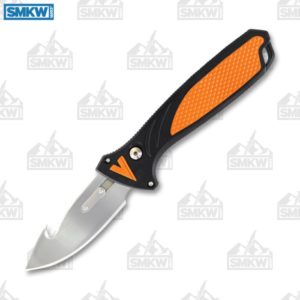 Choosing a good hunting knife can be an endless endeavor. With so many different brands out there with different blade shapes, steels, and handles it can sometimes seem like it takes forever to figure out with one will work best with your set up. The Havalon Talon Hunt is a knife that gives you a ton of versatility without weighing yourself down with extra knives.
The Talon Hunt uses Havalon's Quick-Change II Interchangeable Cutlery System. The ability to quickly and easily change out the AUS-8 blade essentially gives you three knives in one. This set up comes with two 3.5″ guthook blades, a 3.5″ partially serrated skinner skinner blade, and a 5″ fillet blade. To change to a different blade, it's as easy as pressing a button, removing the blade, and swapping it out for the next.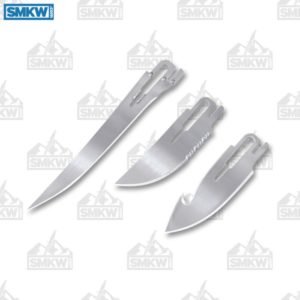 Not only is it easy to change out the blade, it's just as easy to keep clean with the removable back panel. Just press release the lock on the side of the injection-molded nylon handle, and it easily comes apart. This allows you to easily get everything cleaned up, sterilized, and ready for the next hunt.
Don't worry about keeping up with all of the different parts and handle pieces. Everything is stored in a compact nylon roll-pack that folds into an easy-to-carry package. Each blade has its own slot so it's no problem staying organized.
Havalon Talon Hunt Details
AUS-8 Stainless Steel
(2) 3.5" Guthook Blades
(1) 5" Fillet Blade
(1) 3.5" Partially Serrated Skinner Blade
Injection Molded Nylon Handle
Lanyard Hole
Nylon Roll-Pack
3.36 oz.
Having the versatility of three knives in one makes the Havalon Talon Hunt a great choice for any hunter. Get one of these for yourself for $90 by clicking any link in the article or simply by clicking the button below.


All images courtesy of Smoky Mountain Knife Works – smkw.com.