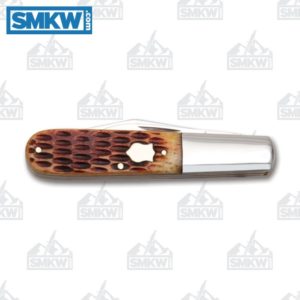 In a world of modern flippers and beefy tactical knives, sometimes a little simplicity can be a good thing. Carry around a traditional slipjoint knife for a week or so and see if doesn't handle everything you need it to do. If you're on the fence about which pattern to try, check out the iconic Barlow pattern. It's a simple time-honored design just like your Granddad used to carry. They're often identified by their tear drop shaped handle and large bolsters.
One of the things that made the Barlow so popular in the first place was the price. After the industrial revolution was underway, manufacturers were able to easily pump these things out at little expense. This made them readily available to the masses for a reasonable price.
These inexpensive folders were often carried by everyone from farmhands to politicians. People would save up a few pennies here and there, and before long, they were on their way to owning a reliable pocketknife. Let's look at three Barlows you can get for less than about $60.
Case Red Bone Barlow
The Case Red Bone Barlow is a good-looking knife. This is a two-blade version with a mirror polished 2.5″ Tru-Sharp Surgical Steel clip point. The dark red, jigged bone handles are mounted on brass liners and secured with brass pins. The bolster is etched with the Case logo over an American flag background. At 3.38″ closed and weighing just under 3 ounces, this is an incredibly pocket friendly knife with a nice balance between utility and easy carrying.
Case Red Bone Barlow Details
Tru-Sharp Surgical Steel, Mirror Polished
2.5″ Clip Point Blade
Slipjoint Folder
Red Jigged Bone Handles
Nickel Silver Bolsters
Nail Nick
Brass Pins and Liners
2.88 oz.
3.38″ Closed
5.75″ Overall
Made in the USA

While a Barlow has a fairly universal design, that doesn't mean that they always come in the same size. At about 5″ closed, Rough Ryder Big Daddy Barlow is a big knife that keeps the look and feel of a classic Barlow but turns everything up in size. This one measures around 9" overall and is easily suited for bigger jobs. The Big Daddy has a 4″  440A clip point with match strike pulls and a Rough Ryder tested sharp tang stamp. The bolsters are stamped with the Rough Ryder Horse Shoe logo.  You can get this knife for about $10.
Rough Ryder Big Daddy Barlow Details
440A Stainless Steel, Mirror Polished
4″ Clip Point Blade
Slipjoint Folder
Yellow Composition Handles
Nickel Silver Shield and Ringed Bolsters
Match Strike Pull
Brass Pins and Liners
5″ Closed
9″ Overall

The Boker Plus Barlow is another great option with classic styling and a moderate price of about $40. It features a mirror polished 2.4″ 440C clip point main blade with a straight pull opener. The smaller secondary pen blade is great for fine detail work. The dark brown jigged bone handles have a nice fit and finish. It's 3.4″ closed and weighs just under 3 ounces.
Boker Plus Barlow Details
440C Stainless Steel, Satin Finish
2.4″ Clip Point Blade
Slipjoint Folder
Brown Jigged Bone Handles
Nickel Silver Pins, Liners, Bolsters, and Shield
Straight Pull/Nail Nick
2.8 oz.
3.4″ Closed
5.875″ Overall

None of these Barlows will cost you over $60, but each will give you that touch of that old-school simplicity you are looking for in a slipjoint pocketknife. See more about these iconic Barlow knives by clicking any link in the article or by simply clicking the button below.


All images courtesy of Smoky Mountain Knife Works – smkw.com.