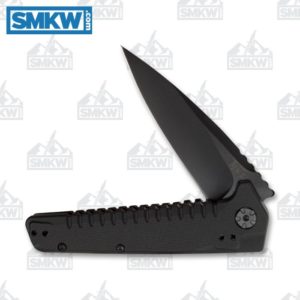 We love some Kershaw knives here at Knife Newsroom and one that recently made its way by the office is the Kershaw Fatback. You read that right. The Fatback. Kershaw tells us, "we call it the Fatback because it's one very tasty knife. Like bacon." Who knew? We thought it was because it had a grippy, layered, bacon-y shaped handle. Whatever the genesis of the name, the Kershaw Fatback is indeed tasty like bacon and you can get it for about $30.
What do we mean when we say it has a grippy layered bacon-shaped handle? Well, the GRN handle has a smooth back and an almost scalloped-looking grip. It kinda looks like a slab of bacon. Sorta. If you look at it just right. Anyway, that "scallop" look is likewise on the liners, as well as the linerlock. What all that means is this thing is super grippy…and did we mention it looks a little bit like bacon?
The SpeedSafe Assisted Opening Fatback has a black oxide coated 8Cr13MoV blade that Kershaw calls "a modified drop-point with a dagger-like shape." We think it's a very stabby looking profile, making it perfect for protecting your bacon.
The flipper opening on this knife is fast and easy. There's significant jimping on the spine, which adds even more slip resistance to this knife.  It's about 4.25″ closed and weighs about 3.6 ounces. It has a four-way ambidextrous, reversible pocket clip so you can carry your Fatback your way.
Kershaw Fatback Details
8Cr13MoV Stainless Steel, Black Oxide Coating
3.5" Modified Drop Point Blade
Flipper Opener
Linerlock
Glass-Filled Nylon Handles
Ambidextrous Reversible Pocket Clip
3.6 oz.
4.25" Closed
7.75" Overall
Paragraph
The Kershaw Fatback is fast, fun, and affordable. It is indeed as tasty as bacon, and who doesn't like bacon? To get this knife, click any link in the article or simply click the button below.


All images courtesy of Smoky Mountain Knife Works – smkw.com.