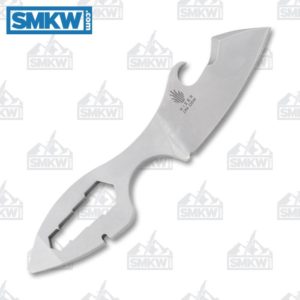 Yeah, multi-tools rule. You never know what can happen in your day-to-day. The Kizer Crocotool is a one-piece knife/tool combo that can save you lots of headaches, and at just $30, adding it to your daily carry is a no brainer.
Kizer makes the Crocotool from a single 4.25″ piece of S35VN stainless steel. It features a 2" sheepsfoot blade that gives you compact cutting power, and a cutout in the spine of the blade can be used as a cap lifter or can opener.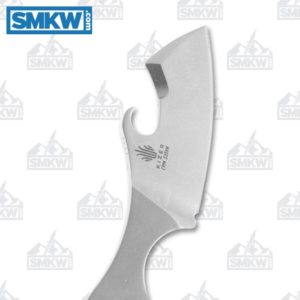 A cutout in the handle performs as a hex driver and fits four different bolt sizes, and the butt of the handle features a mini pry bar and a screwdriver tip. It also features a wire stripper.
The Kydex sheath protects your hands while you use the tools (including the cap lifter), so you don't have to worry about the blade taking out your fingers.
It's really easy to bring the Crocotool anywhere. You can carry it like neck knife, or it's small enough to simply slip it into a pocket. The sheath keeps the blade safely covered, and its slim profile won't take up much room.
Kizer Crocotool Details
One-Piece, S35VN Stainless Steel Construction
2" Sheepsfoot Blade
Cap Lifter/Can Opener, Pry Bar, Hex Drivers, Wire Stripper
4.25″ Overall
0.84 oz.
Kydex Sheath
With the Kizer Crocotool you get the best of both worlds, a one-piece multi-tool, and a fixed blade knife. A versatile blade shape and useful tools definitely make it worth checking out. Find out more by clicking any link in the article or the button below.


All images courtesy of Smoky Mountain Knife Works – smkw.com.