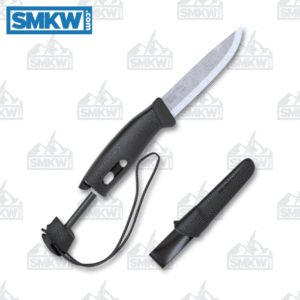 We've touched on the Companion in the past and looked at why it's such a popular knife for campers and outdoorsmen around the globe. Well, that model has recently been updated with the Mora Companion Spark. They've integrated the fire starter in the handle and updated the steel to 12C27, making this into what might be the most useful camp knife you can get for $30. Scouts, bushcrafters, and campers will definitely want to give it a look.
The Companion Spark features a 4.1″ 12C27 stainless steel clip point with a satin finish and a Scandi grind. The 90-degree spine makes it perfectly compatible with the integrated fire starter. To access the fire starter, all you have to do is just pull it out of the slot in the handle of the knife. When you're finished, just slide it back in place until you need it again. This keeps it out of the way and makes it a great way to keep your fire rod and knife in the same place. For added convenience, the ferro rod comes with a lanyard.
For precision and control the Companion Spark has a slip resistant, black TPE handle. It also comes with a black polymer sheath with a clip that attaches easily to a belt or backpack. Like other Mora knives, it has a drain hole in the bottom where water can drain out in wet environments.
Mora Companion Spark Details
12C27 Stainless Steel, Satin Finish
4.1" Clip Point Blade
TPE Handle
Integrated Fire Starter with Lanyard
Polymer Sheath
3.2 oz.
9.375" Overall
Made in Sweden
With the Mora Companion Spark on hand, you're set for bushcrafting, food prep, or anything else that comes up when you're in the field. If you want to get one for yourself just click any link in the article or simply click the button below.


All images courtesy of Smoky Mountain Knife Works – smkw.com.