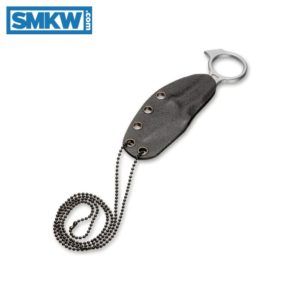 It doesn't get any easier to carry a knife than to sling one around your neck. Typically, a neck knife is a fixed blade that is compact in size, lightweight, and serves as a great EDC, a back-up knife, or even a layer of self defense. Most come with a leather or molded composite sheath and a lanyard that lets you easily release the knife with one easy, downward pull. Here are three stand-out neck knives for under $100.
Cold Steel Mini Tac Tanto
The Mini Tac Tanto from Cold Steel is lightweight, has excellent grip and is probably the most tactically inclined knife in our list. The AUS-8A stainless steel tanto blade is ideal for adding a ton of piercing potential in a small size. Two deep finger grooves provide extra grip on the textured G-10 handle. It's easy to carry with the Secure-Ex sheath and bead lanyard.
Cold Steel Mini Tac Tanto Details
AUS-8A Stainless Steel, Bead Blast Finish
3.75" Tanto Blade
G-10 Handle
Secure-Ex Sheath
6.75" Overall

Boker Plus Gitfo-DA
The Boker Plus Gitfo-DA has a compact and ergonomic design that looks absolutely wicked. It was designed by DJ Urbanovsky, who once said, "I don't build safe queens. I build users. I want you to go out and cut stuff!"
The Gitfo-DA measures 5.3" overall and is basically a sized down version of the original Boker Gitfo. A finger ring, riffling, and grooves ensure a superior grip, and it comes with a Kydex sheath and a bead chain lanyard.
Boker Plus Gitfo-DA Details
440C Stainless Steel, Stonewash Finish
2.1" Spear Point Blade
Stainless Handle
Finger Ring
5.3" Overall

KA-BAR Becker Remora
The KA-BAR Becker Remora is the smallest knife on our list, but it's up for anything. Measuring just over 5″, it features a 2.4″ black powder-coated 1095 carbon steel blade. KA-BAR says it's, "nearly undetectable in a pocket or vest pouch, yet it's durable enough and just the right size for every little task." This neck knife almost disappears into the pocket if you choose to carry it there.
KA-BAR Becker Remora Details
1095 Carbon Steel, Powder Coated
2.375″ Drop Point Blade
Carbon Steel Handle
Hard Molded Plastic Sheath
5.125″ Overall
Made in the USA

Whether you're just wanting to change up your EDC a bit or need a backup knife for self-defense or camping, these neck knives for under $100 will fit the bill. There's an option for virtually any setup. See more by clicking any link in the article or the button below.


All images courtesy of Smoky Mountain Knife Works – smkw.com.