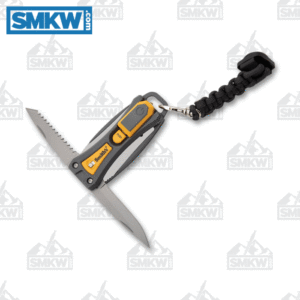 Smith's is known for producing a variety of knife sharpeners. They also make other things like the Smith's 10-N-1 Survival Multi-Tool. This handy and fantastic multi-tool is now available on closeout for about $6 while supplies last. Let's take a look at all the things in this compact, budget friendly package.
The overall length of the Smith's 10-N-1 is about 3.75″. It weighs about 3.7 ounces. The handle thickness at its widest point (where the light lives) is just over an inch. It has a spacious lanyard hole and comes with a removable paracord fob and compass. All this means it's remarkably pocket and gear friendly especially given the overall utility of this multi-tool.
The 10-N-1 has two liner locking blades. We'll be honest. When we opened up the 2.5″ plain edge and saw blades we expected them to be nail breakers. They're not! Both blades easily open with a nail nick. A composition handle houses all of the blades and tools. On top of the housing is a small pair of tweezers and a removable LED light with both stream beam and blinking modes.
Once you open the housing, you'll find a nice carbide sharpener. It has a grooved portion on each side for a good grip. In Russian doll fashion there's a ferro rod stored inside of the handle of the sharpener. The fire starter also functions as an emergency whistle. Finally, there's also a signal mirror inside the lid of the handle.
Click any thumbnail to launch a slideshow of larger images.
Smith's 10-N-1 Survival Multi-Tool Details
Stainless Steel
2.5" Plain Edge and Saw Blades
Composition Handle
1.15″ Handle Thickness
LED Light
Tweezers
Carbide Sharpener
Whistle
Fire Starter
Signal Mirror
Paracord Fob
Compass
3.68oz.
3.75" Overall
For just $6, the Smith's 10-N-1 Survival Multi-Tool isn't bad at all. It makes a great compliment to any survival kit or glove box. Get one by clicking any link in the article or the button down below.


All images courtesy of Smoky Mountain Knife Works – smkw.com.