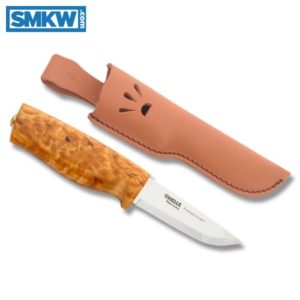 He's no Patrick Rollins. He's certainly no Dave Canterbury. He's Jimislash, and we think he might be out spirit animal. Why? He doesn't claim to be a knife expert, he's just a guy who really likes knives. He's also wildly enthusiastic when he loves a knife. We hear what you're thinking. "There are lots of people who love and review knives. What sets Jimislash apart from the rest?"
PIF
The answer lies in one word: PIF. Pay It Forward. Jimislash runs a PIF program where he randomly sends out PIF boxes with knives and/or EDC gear for absolutely no reason at all.
He tells us, "PIF is a Jimislash program that sends out free boxes of EDC gear to people, just to cheer them up." To make up PIF boxes, Jimislash combines the stuff he buys with the stuff people send him. He is literally spreading knife joy across the land.
In the linked YouTube video above, Jimislash tests and reviews the Helle Folkekniven. His review is not only hilarious, it's the reason this article is without even one awful Helle pun.
Helle Folkenkniven
Speaking of knives, the Helle Folkekniven has an overall length of 7.75". It has a threaded rat tail tang making it a great daily user. The beautiful curly birch handle is contoured and thick enough to make it perfect for those with a larger grip.
Although many Helle knives are made with laminated steel, the Folkekniven has a mirror polished 3.5" 12C27 Sandvik drop point and comes with a leather sheath with a belt loop attachment.
Helle Folkekniven Details
12C27 Sandvik, Mirror Polished
3.5" Drop Point
3.39oz.
Leather Sheath With Belt Loop Attachment
7.75" Overall
Made in Norway
Whether you're interested in fun while talking about knives or in all the possible puns inspired by the well-made and beautiful Helle Folkekniven, check out Jimislash on YouTube. And while you're at it, check out the Helle Folkekniven by clicking any link in this article or simply click the button below.