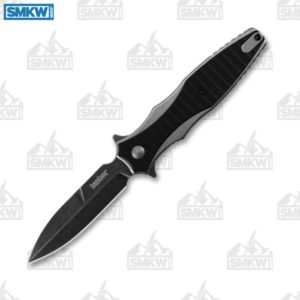 There's a Kershaw sale going on at SMKW right now, and there are unbelievable deals to be found. Take the Kershaw Decimus for example. The MSRP on this knife was just over $50, and the regular price was just under $40. In this sale, you can pick up that same Decimus for about $20. Yep. $20. That's a great deal by anybody's math.
Why would you want the Decimus? Because Rick Hinderer and pocket sword, that's why.
Rick Hinderer is a cool guy who makes a fantastic knife. We're pretty sure he knows not everyone can afford a high-end, doubled edged pocket sword like his Maximus. Enter the Hinderer-designed Kershaw Decimus. It looks similar to the Maximus, but it's made with more budget-friendly materials. Rather than hundreds of Denarii you'd spend on his midtech knife, the Decimus will only set you back a little over $20. It has all the "This is Sparta!" styling your inner child could possibly want combined with the reliable build Kershaw is known for.
This framelock has a single-edged, 3.25" spear point with a BlackWash finish. It features a wicked cool, wasp-waisted bayonet style blade with a substantial finger choil and thumb ramp. It's a SpeedSafe assisted-opening flipper with an opposing faux-flipper that serves a dual purpose. It forms a crossguard for added safety and, (maybe more importantly) makes it look cool.
The stonewashed stainless-steel handles have a wavy, textured GFN overlay for a superior grip and feature an ambidextrous tip-up pocket clip.
There's a ton of jimping throughout the body of this knife for even more slip resistance. It's 4.25" closed and weighs in at about 4.3 ounces, making it a respectable daily carry.
Kershaw Decimus Details
8Cr13MoV Stainless Steel, BlackWash Finish
3.25" Spear Point Blade
Flipper Opener
Framelock
Stainless Steel Handles, Glass Filled Nylon Scales
Ambidextrous Tip-up Pocket Clip
4.3 oz.
4.25" Closed
7.5" Overall
With distinctive looks and Hinderer design for about $20, the Kershaw Decimus is great for the inner-warrior in us all. To get this knife, click any link in the article or simply click the button below.



All images courtesy of Smoky Mountain Knife Works – smkw.com.