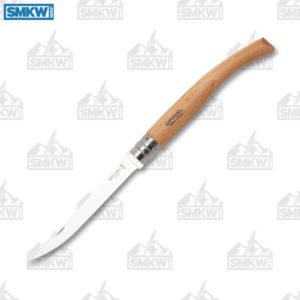 Opinel produces some of the best economical everyday carry knives you can get. These handy users get customized, photographed, and used by the masses with nary a complaint in sight. However, we bet you haven't seen the Opinel Slim series. They're meant to be a folding fillet knives but we think they're simply beautiful knives chock full of gorgeous curvy goodness that make an exquisite addition to any knife collection. They're lightweight, elegant knives with a ton of slicing utility that you can pick up for as little as $20.
Like many other Opinels, the Slim series is available in a variety of sizes, handle materials, and finishes.  Each knife in this series features a flexible upswept 12C27 Sandvick blade that has a blade thickness of about 1/16″. These thin, flexible blades demonstrate exceptional slicing ability. They're widely renowned for taking an incredible edge that starts at shaving sharp and can be sharpened to almost surgical scalpel sharpness. They also all have Opinel's iconic and reliable Virobloc locking collar to protect your fingers when the knife is open.
The Opinel Slim series is currently available in the No. 8, No. 10., and No. 12 patterns with Beechwood, Olive Wood, and Padouk handles.  These curvy sexy blades transcend their fillet knife utility because any model makes an elegant, lightweight addition to your gear. The smaller No. 8 version of this elegant knife is about 4″ closed and easily rides in the pocket as well as most traditional slipjoints. Even the No. 12 (the largest of these knives) weighs less than 2 ounces and has a closed length of 5.75″.
Click any thumbnail in the following gallery to launch a slideshow of larger images.
Opinel Slim No12 Details
12C27 Sandvik Stainless Steel
3.25″, 4″, or 5" Upswept Blade
Beechwood, Olive Wood, or Padouk Handle
Virobloc Lock
Less than 2oz.
4″, 5, or 5.75" Closed
Made in France
For a fantastic and beautiful knife with an incredible slice, you should absolutely check out the Opinel Slim series. You can get any one of these budget friendly, elegant knives for less than $40. To get these knives, click any link in the article or simply click the button below.


All images courtesy of Smoky Mountain Knife Works – smkw.com.