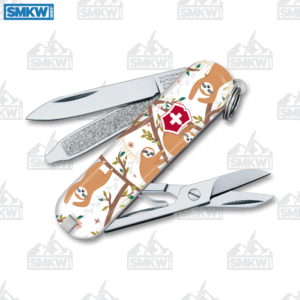 Check out the four fun new Swiss Army SMKW exclusive Classic SD knives! These delightful little knives add an element of awesome to your daily carry without causing too much pain to your wallet. This is where we'd ordinarily say the sloth version might be our favorite. We aren't uncertain of our pick – the sloth version is definitely our favorite in this exclusive run. The llama ran a close race but ended up in second place on the Favorite List. There seems to be endless availability of cool designs when it comes to the Victorinox Classic SD Swiss Army Knife, but the sloth is definitely the coolest.
The SAK Classic SD is an outstanding little life in its own right. Each Classic SD has stainless steel blades and tools with ABS handle scales. This model measures just 2.5" closed and weighs about half an ounce, so you can carry it with you virtually anywhere.
There are four different handles available. First is the oft-mentioned (and clearly coolest) Sloth and the (almost as cool) Llama versions are printed on a white composition background. The Big Dogs and Toolbox versions are on a black background.
Click any thumbnail in the gallery below to launch a slideshow of larger images.
Swiss Army SMKW Exclusive Classic SD Details
Stainless Steel, Mirror Finish
1.5″ Pen Blade
ABS Handles
2.5" Closed
Nail File
Screwdriver
Scissors
Key Ring
Tweezers
Toothpick
0.64oz.
Made in Switzerland
These are some seriously fun designs and they cost less than $20 each. You can get your own SMKW exclusive Classic SD by clicking any link in the article or the button below.


All images courtesy of Smoky Mountain Knife Works – smkw.com.