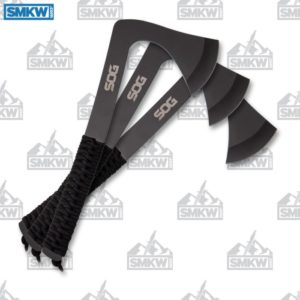 If the Almighty Thor were an axe-throwing enthusiast, we think these might be right up his alley. The SOG Valkyrie Throwing Axe Set is a new exclusive for Smoky Mountain Knife Works. They're Viking-inspired and perfect for anyone. Whether you're just learning how to throw axes (or you're just looking for a cool looking small axe to go "Viking" in the back yard) you should absolutely check these out.
Designed specifically for target practice, you get three axes in this set. Each features a solid, 3Cr stainless steel construction with a black coating. The cutting edge on each of them is nice and sharp for a good stick, and they're balanced perfectly for great throws at any distance.
Each has a thick paracord wrap that goes halfway up the handle. A nylon sheath that holds all three tomahawks at once is included and can be worn on a belt. That makes them easy to carry and kept together when not in use.
SOG Valkyrie Throwing Axe Set Details
3Cr Stainless Steel Construction, Hardcased Black
2.5" Blade Length
SOG Logo
Paracord Wrap Handles
Nylon Sheath
9.5 oz. (Each)
10.74" Overall
You can get these three awesome axes and a nylon sheath for just $40. Again, the SOG Valkyrie Throwing Axe Set is exclusive to Smoky Mountain Knife Works, so hit them up and get your own set by clicking any link in the article or the button down below.


All images courtesy of Smoky Mountain Knife Works – smkw.com.