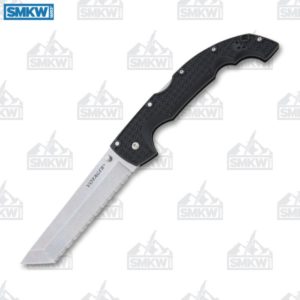 The Cold Steel XL Voyager Tanto is a big knife designed to do big knife things. Lynn Thompson from Cold Steel described it as an "enormously rugged, outdoor adventure knife." It measures just over a foot long when open, so it certainly could pass into the pocket-sword category, but it makes a totally useful every day, self-defense knife as well. It's wickedly strong, built for performance, and just incredibly cool.
The Voyager has a big 5.5" AUS-10A stainless steel tanto with a fully serrated edge. The fully serrated edge is capable of making much deeper cuts than a plain edge would, and the tanto blade shape provides plenty of piercing power that leaves a deep V-shaped hole in whatever it's plunging into. It opens with ambidextrous thumb studs and locks up with Cold Steel's heavy Tri-Ad lock.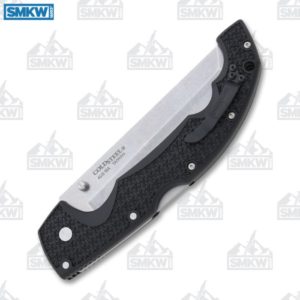 It features grippy Griv-Ex handle scales reinforced with strong aluminum liners. The finger grooves fit great in your hand, and it's curved near the pommel which gives you a bit of a pistol grip for more range in self-defense situations.
This Voyager comes with two pocket clips. They mount in a tip-up configuration and allow you to carry on the left or the right side. It also has a lanyard hole for attachments.
Cold Steel XL Voyager Tanto Details
AUS-10A Stainless Steel, Stonewash Finish
5.5" Serrated Tanto Blade
Ambidextrous Thumb Studs
Tri-Ad Lock
Griv-Ex Handles
Ambidextrous Tip-up Pocket Clip
Lanyard Hole
7.7 oz.
6.75" Closed
12.25" Overall
The Cold Steel XL Voyager Tanto is a no-nonsense folder that's going to stand up to plenty of abuse in any outdoor setting. It's available for $90. Get one by clicking any link in the article or the button down below.


All images courtesy of Smoky Mountain Knife Works – smkw.com.