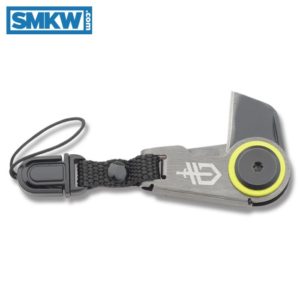 Why yes, yes we did just sing "Little Teapot" to the teeny and fun Gerber GDC Zip Blade. The Editor has very little use for our love of all things mini but that's because the Editor is a grumbley curmudgeon who thinks knives are useful tools and not fun toys. Well, we're here to say that fun little knives can too be useful tools that are worth every penny of the $10 you'll pay for one.
First things first. Even though this a mini knife, the GDC Zip blade is still a knife. Thus, its functionality is defined by its descriptor. The .068″ 7Cr17 sheepsfoot will not only cut dangling threads off your most beloved sweater, it makes a handy mail opener. It tears through tape easier than your car keys. It easily slices through your Doritos bag  and your morning chocolate covered doughnut packet. We know this because we of course tried all of this.
The GDC Zip Blade might on our top 10 list of least threatening knives in the history of ever. Co-workers probably won't shriek with terror if you whip this bad boy out to wack at a random hangnail.
Weighing in at about half an ounce, it was designed to be attached to zippers. Who doesn't want a zipper knife? Who especially doesn't want a zipper knife that doesn't even look like a knife when it's closed?
The branded stainless steel handle on this framelock comes with a built-in fob. With just a quick click the quick-release clip, the knife is free to use. All this makes it super easy to attach your fun little knife to almost anything.
Gerber GDC Zip Blade Details
7Cr17 Stainless Steel Blade, Black Coating
0.68″ Sheepsfoot Blade
Framelock
3Cr13 Stainless Steel Handle
Zipper Attachment
Quick-Release Clip
0.65 oz.
1.7" Closed
2.26" Overall
It's a knife and thus, it's a useful tool. The Gerber GDC Zip Blade also brought joy and laughter to our day.  To us, joy and laughter – combined with a useful tool that opens our morning mail and daily doughnuts – is well worth every penny of $10. If you're interested in this knife, or in joy and laughter, click any link in the article or simply click the button below.


All images courtesy of Smoky Mountain Knife Works – smkw.com.