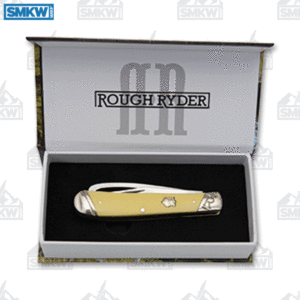 Of all the different patterns available for slipjoint pocketknives, one you don't see very often is the equestrian's knife. Hawkbills, cotton samplers, and penknives all were designed with a specific use intended. The equestrian's knife is no different as it was designed for horse owners. It allows them to carry a pocketknife and a hoof pick at the same time. The Rough Ryder Equestrian's Hoof Pick Trapper comes in a few different styles. Each looks great and costs less than $14.
This traditional pocket knife is sized just like a traditional trapper pocket knife and feature 440A stainless steel clip point blades with match strike pulls. Instead of including the usual spey blade, these trappers come with a hoof pick in its place. It's used for picking horse's hooves. It's great for clearing dirt and other debris after a day of riding.
You have a choice of handle scales with these, with yellow synthetic, white smooth bone, and amber jigged bone available. Each has nickel silver Slant 'R' Bolsters and brass liners.
Click any thumbnail in the following gallery to launch a slideshow of larger images.
Rough Ryder Equestrian's Knife Details
440A Stainless Steel, Mirror Polished
3.125" Clip Point Blade and Hoof Pick
Assorted Handle Scales
Brass Liners
Nickel Silver Slant 'R' Bolsters
Match Strike Pulls
4 oz.
4.25" Closed
Aside from their practical use in the stable, the Rough Ryder Equestrian's Hoof Pick Trapper makes a great gift for any horse enthusiast or slipjoint collector. Check one out by clicking any link in the article or the button below.


All images courtesy of Smoky Mountain Knife Works – smkw.com.