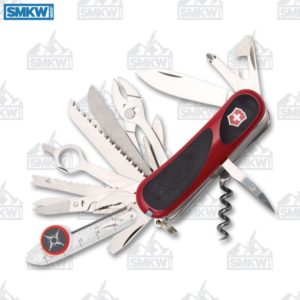 While Victorinox is known for Swiss Army knives that are specialized for any situation, the Victorinox Evolution Grip S54 is for those that want to be ready for anything. Like –  really ready. It's designed like other Evo Grip Swiss Army Knives (with durable ABS handle scales with rubber grip inserts), but the best thing about this multi-tool is that it has whopping 32 functions all packed into one knife. Yes, 32.
Here's what you get (long deep breath): Keyring, toothpick, tweezers, large blade, nail file, nail cleaner, corkscrew, bottle opener, 5mm screwdriver, wire stripper, can opener, 3mm screwdriver, reamer, punch and sewing awl, wood saw, magnifying glass, 3.5mm screwdriver, compass, sightline, cm and in rulers, pliers, wire crimping tool, wire cutter, nut wrench, adjustable opening, scissors, metal saw, metal file, fish scaler, hook disgorger, Phillips screwdriver ½, and universal wrench M3, M4, M5.
Shwew!
Victorinox Evolution Grip S54 Details
Stainless Steel Blade and Tools, Mirror Finish
32 Functions
ABS/Rubber Handles
7.8 oz.
3.25" Closed
Made in Switzerland
It's certainly bigger and heavier than a Tinker or a Classic SD, but if you want to pack that many tools into one knife, it's a small price to pay. Check out the Victorinox Evolution Grip S54 by clicking any link in the article or the button down below.


All images courtesy of Smoky Mountain Knife Works – smkw.com.