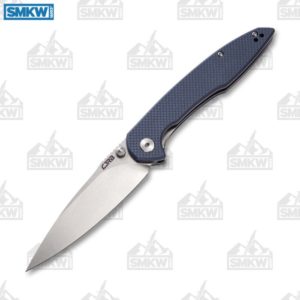 The CJRB Cutlery knives by Artisan Cutlery are finally here and we're pretty excited about it. After hearing a little bit about this new line after Blade Show 2019, we've been eagerly awaiting the chance to get hands-on with some of these budget-friendly, high-performance knives. One that caught our interest in the Knife Newsroom was the CJRB Centros. Designed by Dylan Mallery, of Mallery Designs, this model is super sleek.
First, let's get into the difference between Artisan knives and CJRB knives. They're both outstanding. They're still using ceramic ball bearing pivot assemblies, so all of the smoothness you'd expect is still there.  Both the CJRB and Artisan knives are reliable, smooth-operating, modern folding knives. However, while Artisan has a variety of knives with various steels and at various price points, suitable for just about anyone in the knife-carrying community, all the knives in the CJRB line run about $35. They kept the budget down by reducing the number of options – all CJRB knives are D2 steel blades with either G-10 or Carbon Fiber handles. They also trimmed down the packaging to a simple, standardized box. All this cuts down on their cost and results in you getting to keep a few more dollars in your pocket. That's a win-win.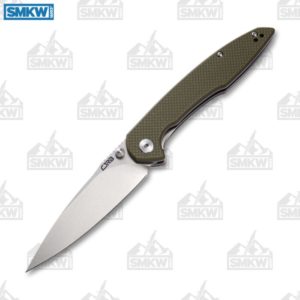 The CRJB Centros features a 3.66" D2 tool steel blade with a stonewash finish. It opens with ambidextrous thumb studs and, considering this is Artisan's first thumb studs production, the placement and action is literally amazing. Feel free to flick away because this knife is super fidget worthy.
This linerlock is available with either G-10 or carbon fiber handle scales. It also has stainless standoffs with a hidden lanyard hole built into one of them. You can carry it on the left or right with the ambidextrous, tip-up pocket clip.
CJRB Centros Details
D2 Tool Steel, Stonewash Finish
3.66" Spear Point Blade
1/8" Blade Thickness
Ambidextrous Thumb Studs
G-10 or Carbon Fiber Handles
Ambidextrous Tip-up Pocket Clip
4.59 oz
4.72" Closed
8.39" Overall
Bottom line, if you love Artisan Cutlery knives, you're probably going to love these as well. Especially the CJRB Centros. Get one or see them all by clicking any link in the article or the button down below.


All images courtesy of Smoky Mountain Knife Works – smkw.com.