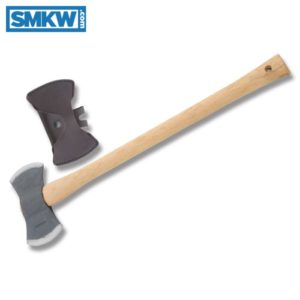 Winter is coming, so let's get our firewood situation under control with the Condor Tool & Knife Double Bit Michigan Axe. This handy, double-headed axe from Condor is sized right and designed for years of use. It's under $80, too, and for the love of all things sharp and pointy, we had to check this thing out.
It features a 1060 high carbon steel double bit head with plenty of cutting surface to handle most wood cutting. Each side has a 4" cutting surface and has Condor's classic finish to prevent corrosion.
It has an American hickory handle with a lanyard hole. Condor uses this wood for its durability in a lot of their tools. Protect the blades when not in use with the included, handcrafted, welted leather sheath with a snap closure.
A benefit of using a double bit axe is that you essentially have two axes in one. You can use one edge for chopping while the other is used for splitting or cutting around rough materials. Given these axes have symmetrical sides, they're also quite balanced.
Condor Tool & Knife Double Bit Michigan Axe Details
1060 High Carbon Steel, Condor Classic Finish
7" Head Width
4" Cutting Edge
50-55 HRC
Hickory Handle
Lanyard Hole
Welted Leather Sheath
28 oz.
24" Overall
Made in El Salvador
The Condor Tool & Knife Double Bit Michigan Axe is like everything else in the Condor lineup, built for use. Get one of these great axes for yourself by clicking any link in the article or the button down below.


All images courtesy of Smoky Mountain Knife Works – smkw.com.