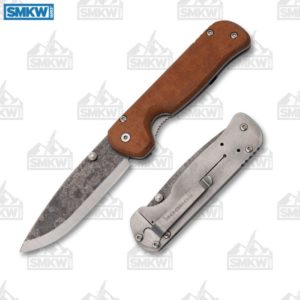 We ran into Joe Flowers at SMKW recently and after waxing poetic about how much we love his design work, the first thing we said was, "So you put 1095 on a folder!? Nobody does that!" Indeed they did. And we couldn't be happier to finally see the Condor Tool & Knife Krakatoa. It's yet another awesome Joe Flowers design that gets its name from a majorly destructive volcano that erupted in the 1800s. This is Condor's second take on a folding bushcraft knife. Compared with that first attempt, they've improved their folders a thousand fold. It's up for some tough use and is a great option for any looking to carry a folder when a larger fixed blade may not be ideal.
The Krakatoa features a 4.12″ 1095 carbon steel drop point with Condor's natural finish. It has a blade thickness of about 1/8″ and a Scandi grind. It flicks open with ambidextrous thumb studs. It's a remarkably beefy knife that should be both durable and easy to sharpen.
If you're going to be using this knife for some tough jobs, a good lock is a must. We've all had those framelocks that just don't work for us because the way our hand fits that particular knife makes it hard to open. This is not an issue with the Krakatoa because of the Condorlock, created by Condor engineer Jorge Umaña. It functions similarly to a standard framelock, but the way they've machined a tab into the frame makes it both stronger and less persnickety about hand placement. Condor says it, "disperses pressure on the handle when put under stress." Flowers said in a video that this folder was clocked close to 350 pounds of resistance. That's quite a strong lockup.
The front scale is a very thick, textured micarta mounted on a stainless steel frame. The back handle is just a simple stonewashed frame. This means that for a fairly large, beefy folder it's going to be fairly easy on the pocket. Overall, it feels nice and broad in hand without being too heavy. Finally, it has a reversible, tip-up or down right carry pocket clip for easy carry.
Condor Tool & Knife Krakatoa Details
1095 Carbon Steel, Natural Finish
4.12" Drop Point Blade
1/8" Blade Thickness
Ambidextrous Thumb Studs
Condorlock
Micarta and Stainless Steel Handles
Ambidextrous Tip-down Pocket Clip
5.64oz
3.85" Closed
7.97" Overall
Made in El Salvador
Overall, the Condor Tool & Knife Krakatoa is a durable, easily maintained folder that makes a fantastic back up to any bushcrafting set up. If you're interested in this knife, click any link in the article or simply click the button down below.


All images courtesy of Smoky Mountain Knife Works – smkw.com.