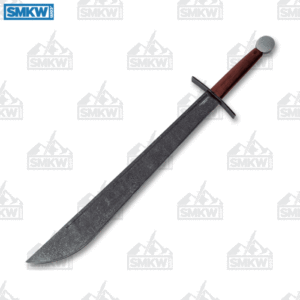 It's October. Despite the million degree weather we're still experiencing, they say it's fall. They say fall is when we're supposed to be cleaning up the garden area to get it ready for winter. Did we really use Condor Tool & Knife Royal Falchion to slash away at old dead okra plants? Yes, we did! Why did we spend a not insignificant amount of money on a sword to clean up the garden area? Because it's a seriously cool sword! Did our spouse shriek loud enough to wake the dead about it? Yes, indeed! Did it stop us? Heck, no!
The Royal Falchion has historic roots mixed with modern production standards. Designed using museum reference measurements, it has a 23.73" 1075 carbon steel blade with a natural finish and a blade thickness of 1/8". While Medieval Chronicles says, "Falchion swords were primarily used for cutting an opponent's limbs or head and slicing unprotected areas of the body with a single stroke," it also works beautifully on okra once you get the angle just right. Think less chopping and more slashing.
A brushed stainless steel pommel accents the richly finished walnut handle. It's slightly rounded and fairly comfortable, even after extended use. It comes with a high quality leather sheath.
Condor Tool & Knife Royal Falchion Sword Details
1075 Carbon Steel, Natural Finish
23.73" Blade
1/8″ Blade Thickness
Walnut Handle
Hand Crafted Welted Leather Sheath
48.33 oz.
31.11" Overall
Made in El Salvador
You can own a totally useable piece of history with the Condor Tool & Knife Royal Falchion. Find yours by clicking any link in the article or the button down below.


All images courtesy of Smoky Mountain Knife Works – smkw.com.