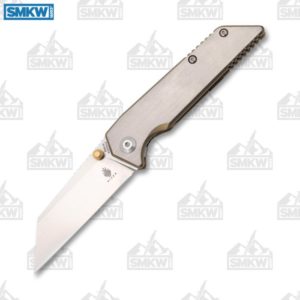 The Kizer Gold Accented Fire Ant with gold accents is practically a perfect pocket carry. It's a practical, lightweight daily carry with a ton of stylish touches that elevate it from a just being "good knife" to pocket candy. Designed by the excellent Dirk Pinkerton (yes, we mean that Dirk Pinkerton) with his neigh on trademark clean, angular lines, there is nothing about this knife that's not awesome.
Featuring a 2.75" S35VN modified Wharncliffe blade that flicks open on washers with the ambidextrous gold-toned thumb studs. There's some subtle jimping along the spine of the blade which provides security in a variety of grips.
The geometric shape of brushed titanium handles almost mirrors the modified Wharncliffe blade shape, giving this knife a seriously nice symmetry. The handles also have the slightest hint of a gold tone that we just love. It's great because it's a subtle shading that exists far outside the realm of the gas station knife. It's just different enough to make it stand out in the sea of grey and black knives. A finger groove and some jimping throughout the handles provides some extra traction. It's about 4" closed and weighs a mere 2.48oz, making this knife practically disappear in your pocket.
Kizer Fire Ant Details
S35VN Stainless Steel, Stonewash Finish
2.75" Wharncliffe Blade
1/8″ Blade Thickness
Ambidextrous Thumb Studs
Framelock
Titanium Handles
Tip-up Pocket Clip
2.48oz
4.25" Closed
7" Overall
What's not so cool about the Kizer Gold Accented Fire Ant? Nothing. It's a incredibly cool knife with a fantastically elegant look and a very good action. Find this knife by clicking any link in this article or simply clicking the button below.


All images courtesy of Smoky Mountain Knife Works – smkw.com.