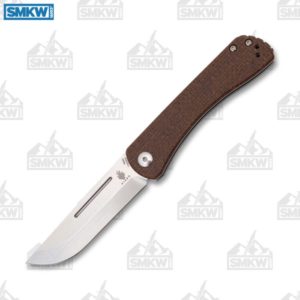 Sometimes a knife comes along through our office here at Knife Newsroom that sort of insists that we give it a double-take. The Kizer Pinch is a modern folder that behaves like a classic. To sum it up, it's like a modern take on a Sod Buster. While that's a super-popular knife in its own right, the Pinch takes that basic design and makes it even more accessible. It's a little bigger, a little smoother, and we'll tell you all about it.
This non-locking folder features a 3" N690 stainless steel blade with a stonewash finish. What's cool about this one is that the long pull opener is on both sides of the blade, so it really is ambidextrous. That's definitely a selling point for any lefty that appreciates a nice touch on a knife to make it easier to use.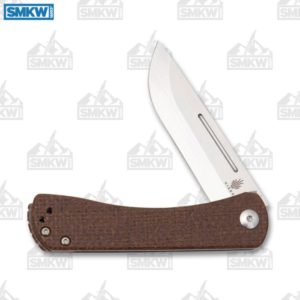 What makes this knife non-locking is the use of what Kizer calls, Detent Action. So think of it like using a slipjoint pocket knife without a backspring. The detent is like a small ball built into the tang of the blade that must pass over the liner to loosen the blade up enough to turn on the pivot. That's keeps the blade in place when open or closed just enough to not let it fall loose. The action on these beauties is both smooth and easy.
The Pinch comes with either micarta or G-10 handle scales. Each has an open-back design with either a micarta or G-10 backspacer. It also has an ambidextrous tip-up pocket clip to keep it modern and easy to carry.
Kizer Pinch Details
N690 Stainless Steel, Stonewash Finish
3" Drop Point Blade
Ambidextrous Long Pull
Detent Action (Non-Locking)
Micarta or G-10 Handles
Ambidextrous Tip-up Pocket Clip
2.72 oz.
3.75" Closed
6.75" Overall
Both versions of the Kizer Pinch are available for right at $60. To see them, just click any link in the article or simply click the button below.


All images courtesy of Smoky Mountain Knife Works – smkw.com.