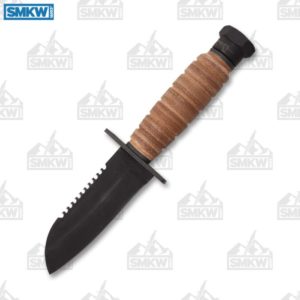 The brand new Ontario Knife Company Journeyman is a funky medium sized fixed blade that costs about $34 and is made in the USA. If you only saw it in the sheath, you might assume it's a combat knife. Out of the sheath you might wonder, "What and why is it?"
Although it was inspired by the 499 Pilot's Survival Knife, it's meant to be a bushcrafting type knife. This fixed blade has a 4" high carbon steel sheepsfoot-style blade with a black phosphate coating for corrosion resistance. It has a blade width of about 1.23″ and a blade thickness of 0.19″. All that means this knife is short, fat, and beastly enough to whack away at whatever you want to whack. There's also a bit of belly on this knife, which gives you increased slicing potential. There are deep serrations along the spine that aren't sharpened. Probably these serrations can be used as a type of jimping or maybe for scraping wood.
The Journeyman has a traditional stacked leather handle with a slightly tapered butt and neck. We very much like the 4.5″ handle to blade ratio. It's roomy enough to allow a variety of grips without being way too much handle. It also comes with a leather sheath with the "OKC" logo, snaps, and a belt loop.
Ontario Knife Company Journeyman Details
High Carbon Stainless Steel, Black Phosphate Coating
4" Sheepsfoot Blade
3/16" Blade Thickness
Stacked Leather Handle
Leather Sheath
8.96oz
8.5" Overall
Made in the USA
What and why is the Ontario Knife Company Journeyman? Designed as an outdoor, bushcrafting type knife with combat knife roots, it's a fun, USA made knife you can pick up for about $34.  Get one for yourself by clicking any link in the article or simply clicking the button down below.


All images courtesy of Smoky Mountain Knife Works – smkw.com.