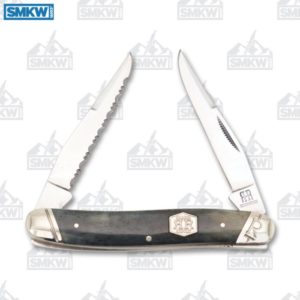 Rough Ryder has just released a pretty cool knife and it might be the only traditional pocket knife you need for all of you meat-eaters out there. The Rough Ryder Carnivore Jack is a new first production run that puts a pretty fun twist on a well-known slip joint pattern. This personal steak knife is based on a Muskrat pocket knife pattern and has two blades just made for slicing. You can get one for about $15.
We know there's a huge debate amongst steak knife users about which is better – a serrated or a plain edged blade. With the Carnivore Jack, you have the option of using either. Both 440A stainless steel clip point blades have match strike pulls, half stops, and a mirror polish. Both blades are razor sharp, and you can literally slice your steak – or anything else – into almost paper thin slices. We know, we spend an inordinate amount of time seeing exactly how thin we could slice our steak after we got our hands on one of these beauties.
Not only will this knife certainly come in handy the next time you sit down for a nice steak and the waiter brings you a dull knife, it's still a pocket knife. Thus, it's useful for cutting just about anything. With a 3.5″ black smooth bone handles, you have a knife that's long enough to get a good grip while still riding light in your pocket.
It has nickel silver Slant 'R' bolsters, brass liners, and a new Rough Ryder Hand Built shield. If your preferred carry is with a pocket clip, then they've got that covered too! It comes with a black leather sheath with a metal clip for carrying this knife with you anywhere you go.
Rough Ryder Carnivore Jack Details
440A Stainless Steel, Mirror Polished
2.625" Plain Edge and Serrated Clip Point Blades
Match Strike Pulls
Half Stops
Smooth Bone Handles
Brass Liners
Nickel Silver Pinched Slant 'R' Bolsters
"Hand Built" Shield
2.56 oz.
3.5" Closed
If you're looking for a shaving sharp knife with a ton of options and an affordable price, you should absolutely get the Rough Ryder Carnivore Jack. It's perfect for your next trip to the steakhouse, tailgate or just pick one up for daily carry. To see more, just click any link in the article or simply click the button below.


All images courtesy of Smoky Mountain Knife Works – smkw.com.