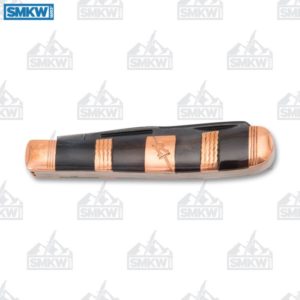 If you look at it just right, it looks like the black smooth bone on the Rough Ryder Copper Coil Trapper is all but floating in a sea of copper. This knife was just released and it's unlike anything we've seen recently in the slipjoint pocket knife scene. It's the first of a new series and we recently got a chance to get hands-on with it here at Knife Newsroom. Copper fans, slipjoint collectors, and knife nuts alike will want to check this budget traditional out.
This trapper features black smooth bone handles with plenty of copper embellishments. Like, a lot of copper. It has genuine copper coil inlays, copper liners, copper pinched, ringed bolsters, and to finish it all up, a copper Slant 'R' center bolster. You don't see a center bolster on traditional knives too often these days and we think that really adds to the unique look of this one. After some time of carrying and use, all of the copper in this knife should develop a nice patina that will definitely give it some major character.
It features 440A stainless steel clip point and spey blades with a dark blackwash finish and half stops. The model we tested had a great snap, a smooth opening, and was razor sharp straight out of the box. These dark blades look nice against all of that copper and blend nicely with the black bone portions.
Rough Ryder Copper Coil Trapper Details
440A Stainless Steel, Blackwash Finish
3.125" Clip and Spey Blades
Match Strike Pulls
Half Stops
Smooth Bone Handles
Copper Pinched, Ringed Bolsters
Slant 'R" Center Bolster
4.125" Closed
With truly unique looks and Rough Ryder's excellent "backed for life" assurance, the Rough Ryder Copper Coil Trapper is a steal for less than $20. Get one for your collection by clicking any link in the article or the button down below.


All images courtesy of Smoky Mountain Knife Works – smkw.com.