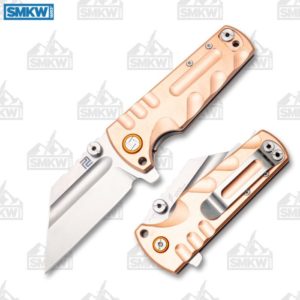 If you've missed our coverage of the Artisan Cutlery Proponent before, here's a little recap: It's a beast. It's chunky. It's heavy. We like it. While Artisan Cultery has rolled out versions of their popular knives with copper handle scales, they've also recently put out a brass version of a few. The Proponent is now available with either solid copper handles or brass handles. At about $60 for either model, these SMKW Artisan Cutlery Proponent Exclusives are a more affordable version of the Dirk Pinkerton original, but don't let that fool you. It's still a heck of a knife.
A change in cost also results in some different materials. This Proponent features a 3.85″ D2 tool steel Wharncliffe in place of S35VN stainless steel. Same blade shape, same measurements, just different steel. It still flips open on ceramic ball bearings with the flipper or the oversized ambidextrous thumb studs, but this time locks tight with a linerlock instead of a framelock.
Like others in the copper or brass lineup, it has machined solid brass or copper handles that not only add an awesome look, they also a good bit of weight to the knife. It still comes with an ambidextrous, tip-up pocket clip, thumb studs, and a bolt that can be screwed into the handle that keeps the blade locked closed or open.
Artisan Cutlery Proponent Exclusives Details
D2 Tool Steel, Stonewash Finish
3.85″ Wharncliffe Blade
3/16″ Blade Thickness
Brass or Copper Handles
Flipper and Oversized Thumb Studs
Linerlock
Reversible Tip-up Pocket Clip
14.88 oz.
5″ Closed
8.85″ Overall
For a big, beastly knife with a fantastic build and a great look, you can't go wrong with the SMKW Artisan Cutlery Proponent Exclusives. You can get one by clicking any link in the article or by simply clicking the button down below.


All images courtesy of Smoky Mountain Knife Works – smkw.com.