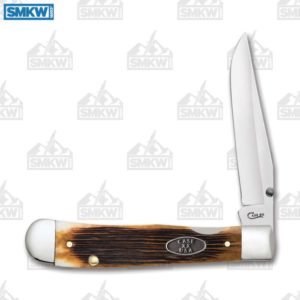 It is an absolutely undeniable fact that Case makes a beautiful knife. When it comes to releasing some of the newest, most greatest-looking series Case is among the best. The new Case Antique Barnboard Jigged Bone series is out (Case calls it the Barnboard Antique Bone series) and we absolutely love the look of these knives. Previously, we took a look at their new Burnt Purple Tribal Jigged Bone series. This one is totally different on the color scale but appeals to an entirely different esthetic.
The bone handles on the Antique Barnboard Jigged Bone series have been dyed to give it an antique look. Colors range from almost white to the darkest of browns. The jigging pattern is a series of almost ragged looking horizontal lines, making them closely resemble old barn wood. Hence the name, "Barnboard Jigged Bone."  As much as we lament Case's recent titling of their knives, we think they hit the nail on the head with their description which states these knives have "warm highlights that harken to a simpler time." The final fantastic touch is the pewter shield.  The look this shield gives the jigged bone handles is a classic and overall gorgeous look.
Each knife in this features mirror-polished, Tru-Sharp stainless steel blades. This series is available in the following patterns: Kickstart  Trapperlock, Trapper, Half Whittler, Small Toothpick, Muskrat, Canoe, Slimline Trapper, and Stockman.
Click any thumbnail in the following gallery to launch a slideshow of larger images.
Case Antique Barnboard Jigged Bone Details
8 Different Patterns
Tru-Sharp Stainless Steel, Mirror Polished
Barnboard Jigged Antique Bone Handles
Brass Pins and Liners
Nickel Silver Bolsters
Pewter Case XX Shield
Made in the USA
The Case Antique Barnboard Jigged Bone series is among the best that is available for this Fall and you can get started with this series as low as $47. To get any of these knives, just click any link in the article or the button down below.


All images courtesy of Smoky Mountain Knife Works – smkw.com.