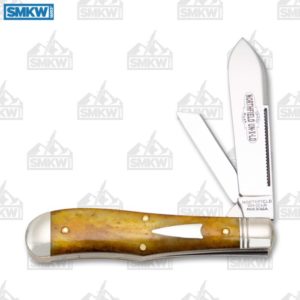 The GEC 92 Eureka Jack pattern is in and we love them. If we had to describe the pattern, we'd say it's a swayback with a hint of coffin pattern tossed in to give it a little extra something. This is a really old pattern that was initially revived by Tony Bose, then used by Case for their Tony Bose knives. Great Eastern Cutlery changed up the blade configuration and first ran this pattern in 2013.
The 92s  are available in both the Northfield and Tidioute brands. They feature a 2.75" 1095 carbon steel spear point main and a 2" secondary coping blade. The Tidioute version is satin finished and opens with a nail nick. The Northfield is mirror polished and opens with a forged straight pull. They all have a fantastic snap with half stops. The backsprings are nice and strong without being so strong your thumb nail begs for mercy. They're 3.625" closed and weigh from just over 2 to almost 3 ounces.
This series is available in four different handle materials. The Northfield 92 Sambar Stag has lightly polished sambar stag handles that old timers from back in the day might have called "midnight stag." They have darker, more gnarly appearance than you might expect.  The Northfield 92 Antique Goldenrod Camel Bone features smooth bone handles with an outstanding fit and finish.  It's accented by a flat nickel silver Spear shield. The Tidioute 92 Elderberry Jigged Bone has a nickel silver Orleans shield and the Tidioute OD green canvas micarta has an oval shield.
GEC 92 Eureka Jack Details
1095 Carbon Steel
2.75" Spear Point Main, 2" Coping Secondary
Slipjoint
Brass Pins and Liners
Nickel Silver Bolsters and Shield
3.625" Closed
6.38" Overall
Made in the USA
The GEC 92 Eureka Jack pattern makes an outstanding addition to any knife collection. If you're interested in these knives, click any link in the article or simply click the button below.


All images courtesy of Smoky Mountain Knife Works – smkw.com.