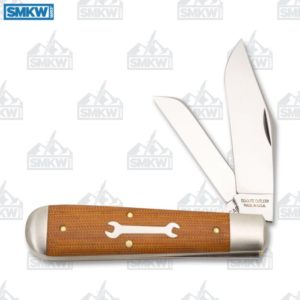 What's so shriek worthy about the GEC Oil Field Jack? When you spend all day looking at knives – particularly old slip joint pocketknives – it's the little things that make you say "yay!" We've seen a thousand jack knives with a billion handle materials, and in every imaginable blade configuration. We haven't seen a wrench shield with a brushed finish. It's cool! We like it! Above and beyond everything else, that's what makes GEC awesome. They're clever.
Oh, but wait, there's more! Know what else is clever about the new 86 Pattern Premier Plus Oil Field Jack? It has two different blade thicknesses. That's fairly common on a whittler – where the main blade is supported by both backsprings – but it almost never happens on a regular pocketknife. GEC gave the .095" main blade a thicker backspring, and the .07" secondary blade a regular backspring. How cool is that? This means your main blade is a touch thicker which, in turn, makes it a touch tougher.
This is a two-blade jack pattern with 1095 carbon steel blades. The main blade is a 3" clip point main blade, the secondary is a 2.5" sheepsfoot secondary blade. They open with a nail nick and have clearly defined half stops.
This Pattern Premier Plus series is available in three different handle materials: Sucker Rod Wood, Natural Canvas Micarta, and Natural Oily Creek Bone. The Natural Canvas Micarta and the Sucker Rod Wood models have brushed nickel silver bolsters and shield, and satin finished blades. The Oily Creek Bone is mirror polished.
GEC Oil Field Jack Details
1095 Carbon Steel, Mirror Polished
3" Clip Point, 2.5" Sheepsfoot
Half Stops
Nail Nick
Slipjoint
Natural Canvas Micarta, Oily Creek Bone, or Oil Sucker Wood Handles
Brass Pins and Liners
Nickel Silver Wrench Shield
3.7 Ounces
3.85" Closed
6.85" Overall
Made in the USA
The knives GEC Oil Field Jack series are unique and interesting enough to make even our jaded Editor said, "Huh. That's pretty cool!" They not only make a fantastic addition to any knife collection, they're the perfect gift for the jaded knife collector in your life. To make sure you get yours before they're gone, click any link in the article or simply click the button below.


All images provided by Smoky Mountain Knife Works – smkw.com.