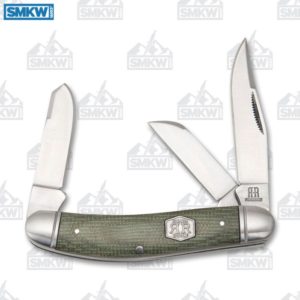 We won't call the knives in Rough Ryder Classic Micarta Series "modern traditionals" because the Editor might have an actual aneurysm.  We could call them a modern take on a traditional slip joint. However, that's also not quite right because they're built the same way slip joints have been built for hundreds of years. We can say they're almost everything you want from a modern looking traditional slipjoint. From the canvas Micarta handles the satin finished steel, these are fantastic looking knives that would never be mistaken for your Grandpa's old knife.
This series features smoothly finished green canvas micarta handles accented by black liners. Instead of the usual Slant 'R' bolsters, this series has ringed, brushed steel bolsters. They have also have the new Rough Ryder 'Hand Built' shields.
All of the knives in this lineup feature satin finished 440A stainless steel blades with match strike pulls. The backsprings are nice and strong so each knife is snappy with half stops that are well defined. The exception is the Folding Hunter pattern. With a closed length of about 5″, it's the largest knife in the series. It does not have half stops. Instead, it has a very vintage styled, old school linerlock.
Whether you favor a smaller knife like the three-bladed Sowbelly or the large and in charge Folding Hunter there's a pattern to suit most preferences in this series. There are five patterns in the Classic Micarta Series including a Trapper, Sowbelly, Hawkbill, Folding Hunter, and the ever-unique Cotton Sampler. The best part is that none of these traditionals cost more than $17.
Click any thumbnail in the following gallery to launch a slideshow of larger images. 
Rough Ryder Classic Micarta Series Details
440A Stainless Steel, Brushed Satin Finish
Match Strike Pulls
Half Stops (Except Folding Hunter)
Micarta Handles with Black Underliners
Satin Finish Steel Pins and Frame
Brushed Steel Bolsters
Satin Finished RR 'Hand Built' Shields
These Rough Ryder Classic Micarta Series knives feature impressive fit and finish for the price and make an outstanding addition to any knife collection. They're also just downright excellent daily-carry slipjoint pocketknives that are "built by hand and backed for life." See the entire series and get yours by clicking any link in the article or the button down below.


All images courtesy of Smoky Mountain Knife Works – smkw.com.