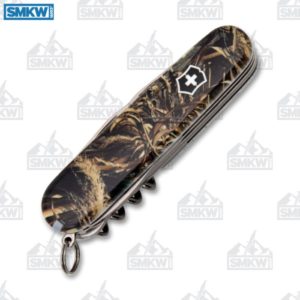 Smoky Mountain Knife Works just released a lineup of a few of Victorinox' fan-favorite patterns with Realtree camo handles that are exclusive to SMKW, but what do these knives have to do with math? Well, now through November 30, 2019 SMKW is offering 10% off any Realtree product, including these exclusive Realtree SAKs. That means you can get the Realtree Swiss Army Huntsman, the Tinker, as well as the Classic SD and then toss in a Buck BHW Realtree Bantam at $25.99. Your subtotal comes out to $110.96. The code REALTREE10 gets you 10% off, which saves $11.10. That makes your total out of pocket $99.86 and qualifies you for free shipping. Put all that together and it's almost like you saved nearly $20. See? Math.
Back to the knives. This series includes your choice of the popular Huntsman, Tinker, and Classic SD models. You can get one or each decked out in either Realtree Max-5 or the darker Timber camo. Each will have the Victorinox logo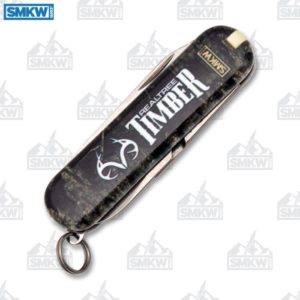 on the front and either "Max-5" or "Timber" on the back along with the Realtree antlers and SMKW.com logos.
All of these knives have stainless steel blades and tools. Every model has a key ring, toothpick, and a pair of tweezers. The Classic SD is the smallest and comes with the least amount of tools, but it's excellent for daily carry. The Tinker and Huntsman will be perfect for anyone looking for a compact all-purpose pocketknife with a bit more versatility. Each has its own strengths. One may have a saw, where the other may have a pair of spring-loaded scissors. The Huntsman will add in a corkscrew in place of a Phillips screwdriver. That makes each one of these knives different.
Click any thumbnail in the gallery below to launch a slideshow of larger images.
Victorinox Realtree Swiss Army Knives Details
Stainless Steel Blades and Tools, Mirror Polished
Key Ring
Toothpick
Tweezers
ABS Handles
Realtree Timber or Max-5 Camo
Huntsman, Tinker, and Classic SD Available
Made in Switzerland
The Victorinox Realtree Camo Knives run from $18 up to $41. For a limited time, you can get 10% off any Realtree product through SMKW.com using promo code REALTREE10. Get one for yourself by clicking any link in the article or the button down below.


All images courtesy of Smoky Mountain Knife Works – smkw.com.