First there was copper. Then there was brass. Now, the SMKW Exclusive Artisan Cutlery Bronze series has arrived, and we believe they are going to be huge! These big chunks of pocket jewelry are both gorgeous and budget friendly. Prices range from $50 for the Artisan Shark, Osprey, and Tradition to $60 for the Artisan Proponent.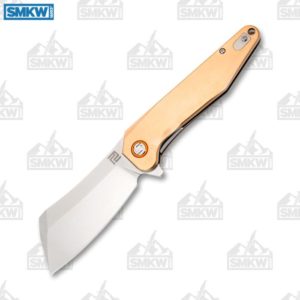 First and most importantly, the handles on these linerlocks are solid bronze. They will absolutely patina over time giving each knife a unique look.
Each knife in this series features a D2 steel blade with a stonewash finish. As always with Artisan knives, the opening action on these beauties is fast and furious because they have a ceramic bearing pivot system. All models except the Proponent open with a flipper. The Proponent gives you the option of using either the flipper or ambidextrous thumb studs.
They all have an ambidextrous, tip-up pocket clip. The Shark has an anodized blue steel liner. Both the Proponent and Osprey have an anodized orange pivot collar.
Click any image in the following gallery to launch a slideshow of larger images.
Artisan Cutlery Bronze Series Details
D2, Stonewash Finish
Bronze Handles
Stainless Steel Liners
Linerlock
Screw-In Secondary Safety on Proponent
Flipper with Ceramic Ball Bearing Pivot System
Proponent: Flipper and Ambidextrous Thumb Studs with Ceramic Bearings
Ambidextrous Tip-Up Pocket Clip
Lanyard Hole on Osprey and Tradition Models
The Artisan Cutlery Bronze series is an SMKW exclusive. Make sure you get yours before they're gone. If you're interested in these knives click any link in the article or simply click the button below.


All images courtesy of Smoky Mountain Knife Works – smkw.com.