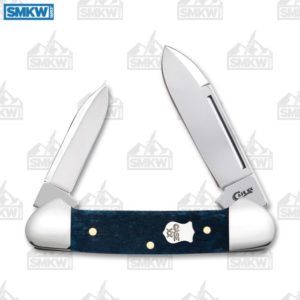 The Case Mediterranean Blue Smooth Bone contains some seriously pretty knives. The deep blue smooth bone handles look almost like your favorite comfy old denim jeans. They're very pretty and very classic looking pocket knives.
Collecting Case knives is a tradition passed down through the generations. As 2019 draws to a close, it's the end of another Case era. The Barlow goes back into the Case vault, and more importantly, late additions to the Case lineup will be the last of this decade's tang stamp. That matters to collectors because over time the No-Dot and the Ten-Dot knives are generally the most sought-after knives in the Case lineup. All that results in the Case Mediterranean Blue Smooth Bone series not only being beautiful additions to a collection but potentially valuable additions to a knife collection.
The blades on each knife are mirror polished TruSharp Surgical Steel. They each have brass pins and liners. It has a nickel silver badge shield with an engraved "Case XX" and nickel silver bolsters. This series is available in the following patterns: Barlow, Peanut, Trapper, Russlock, Baby Butterbean, Medium Stockman, Mini Trapper, and Muskrat.
Click any thumbnail in the following gallery to launch a slideshow of larger images:
Case Mediterranean Blue Smooth Bone Details
TruSharp Surgical Steel, Mirror Polished
Nail Nick
Slipjoint
Mediterranean Smooth Bone Handles
Brass Pins and Liners
Nickel Silver Bolsters and Badge Shield
Made in the USA
The Case Mediterranean Blue Smooth Bone series is clean, classic, and frankly beautiful. They make an excellent addition to any knife collection. If you're interested in these knives, click any link in the article or simply click the button below.

All images courtesy of Smoky Mountain Knife Works – smkw.com.