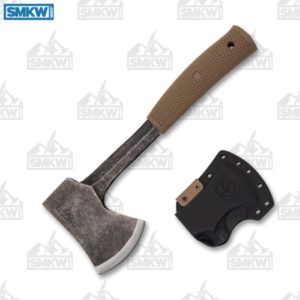 Let's be honest. We don't know why our first thought was "The Condor Campsite Axe will fit in a bread box" but it does, and it was. Maybe we were looking for handy "storage spaces" for this compact axe because the spouse keeps having conniption fits over crooked and crinkled wrapping paper. Who honestly cares if the seams match? It's a mystery.
What isn't a mystery that the Condor Campsite Axe is a very good compact axe. It has an overall length of about 11". The 1075 carbon steel head that measures just over 4" and has a thickness of about 0.75". All that means this axe is a little longer than the Gransfors Bruks Small Hatchet and a little shorter than the Marble's Small Axe.
It has a textured polypropylene handle with good slip resistance. There's a lanyard hole for added security. It comes with a Kydex sheath that leaves the textured, almost-grippy poll exposed. That makes life much easier – not to mention safer – if you just need to whack a thing but don't necessarily want to chop it. You know, like a pristine, perfectly wrapped Christmas present your spouse just had a tantrum over. Not that we'd ever do such a thing.
Condor Campsite Axe Details
1075 Carbon Steel, Natural Finish
4" Axe Head
Polypropylene Handle
Lanyard Hole
Kydex Sheath with Exposed Poll
23.64 Ounces
11" Overall
The Condor Campsite Axe makes a perfect addition to your camping or hiking gear…because its small enough to fit in a breadbox and light enough to barely add any weight to your gear. It has modern materials and cool safety features. To get this axe, click any link in the article or simply click the button below.


All images courtesy of Smoky Mountain Knife Works – smkw.com.