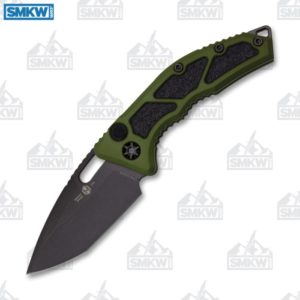 If you're an automatic knife user, you have to check out the Heretic Knives Medusa Auto. This $340 American-made folder is an absolute tank. It's fast, grippy, and we really like it.
The production version of the Medusa Auto features a CPM-S35VN stainless steel blade with a tanto or a recurve tanto blade configuration. It has a black DLC coating for corrosion resistance and a blacked-out look.
This auto opens with authority with the push of a button located on the side of the handle. The same button unlocks the blade as well. The blade has a nice wide surface that's often not expected from a tanto.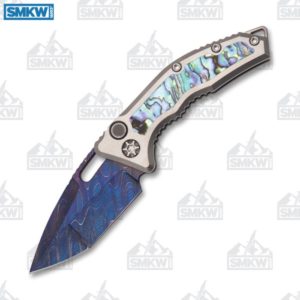 The aluminum handle scales are great. They're grooved and machined for a non-slip grip. Stability is amped up even further with the addition of what Heretic calls "grip enhanced inlays." Think of it as grip tape on the sides of the handles. The models come in green and black and each has a tip-up, machined roller ball pocket clip.
The production Medusa is entirely badass in its own right, but if you're looking for something a little more flashy, (and not afraid to spend a little bit of coin,) the custom will blow you away. They cost nearly $2,000, but you'll get awesome-looking acid-etched Damascus steel, titanium handle scales, abalone inlays, and an absolute one-of-a-kind appearance.
Heretic Knives Medusa Auto Details
CPM-S35VN Stainless Steel, Black DLC Coating
3" Tanto or Recurve Tanto Blade
0.16" Blade Thickness
Push Button Open/Lock
Aluminum Handle Scales
Grip Enhanced Inlays
Tip-up, Roller Ball Pocket Clip
Lanyard Hole
4.96oz
4.5" Closed
7.5" Overall
Made in the USA
The premium Heretic Knives Medusa Auto is one folder that's built to last. Get one of these models for yourself by clicking any link in the article or the button down below.


All images courtesy of Smoky Mountain Knife Works – smkw.com.