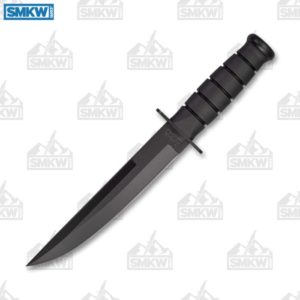 The USA-made KA-BAR 1266 Modified Tanto is a very old design that's been reimagined by KA-BAR. If you're thinking about it as an American Tanto, it's not that. Profile-wise, it's more like a Japanese Tanto from around about 1200s than the car-door piercing American Tanto we all know and love.
The KA-BAR 1266 features an 8" 1095 Cro-Van modified Tanto blade with a black coating and a 56-58 HRC. The blade thickness is 0.165". It's flat ground with 20-degree edge for relatively easy sharpening.
KA-BAR tells us the handle is a "Kraton G handle, a synthetic material that holds up in the elements" and also provides a ton of slip resistance. It comes with a textured glass-filled nylon (GFN) sheath with multiple lashing points. It's 12.75" overall and weighs about 12 ounces.
KA-BAR 1266 Modified Tanto Details
1095 Cro-Van, Black Coated
8" Modified Tanto
0.165" Blade Thickness
56-58 HRC
Kranton Handle
GFN Sheath
12 Ounces, Knife Only Weight
12.75" Overall
Made in the USA
The KA-BAR 1266 Modified Tanto is an outstanding knife that's made in the USA. If you're interested in this knife, click any link in the article or simply click the button below.


All images courtesy of Smoky Mountain Knife Works – smkw.com.