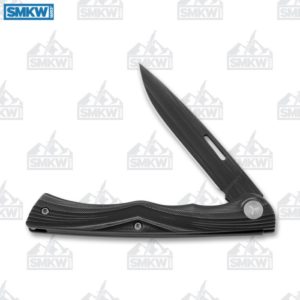 There's no denying this year was an incredible year for knife lovers. There's been incredible new tech, amazing new designers, and some gorgeous new designs. We spent many days arguing – sometimes quite vehemently – which knives should make our Favorites list. In the end, we agreed to disagree. This is a many part series in which we look back at our favorite knives of 2019. If you disagree with our picks, you can join in the fray. Someone on the Knife Newsroom team will most likely agree with you, while someone else will probably disagree with you.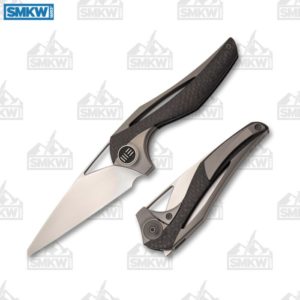 One of our writers is a devout Elijah Isham fan. She's not wrong when she says the lines in an Isham design are so flowing and balanced they elevate a simple tool to an artform. Once you toss in the heavy dollop of the whimsy that's inherent in almost any Isham design, it's almost always a hands down winning knife. Or, as our teammate angrily proclaimed while waving about the AEternA, "How can you possibly argue that any Elijah Isham design is not superior to any other design, ever! You can't! He is best!" Okay, maybe there's a touch of hyperbole there. That aside, he is an incredible designer.
The debate raged for quite some time but eventually she was outvoted. Although we all sincerely adore Isham's design work, the WE Knife Co. Scamp is our pick, because it is a flawless example of the melding past techniques with modern knife making. It is a beautiful, perfectly made slipjoint with outstanding materials and exquisite execution.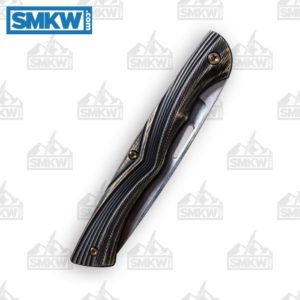 The Scamp has a 2.95″ CPM-S35VN drop point blade with a hand rubbed satin finish. It opens with a nail slot and that opening is a perfect balance of snappy and smooth. It has a strong backspring with clearly defined half stops.
The milled black titanium handles have a hand-rubbed bronze finish giving this knife a weathered yet beautiful look that is unlike any other knife. It has a bronze anodized titanium pivot cap and hardware, as well as a lanyard slot. It's just under 4″ closed and weighs just under two ounces.
KNR 2019 Favorites–Part 2, WE Knife Co Scamp Details
CPM-S35VN, Hand Rubbed Satin Finish or Black Wash
2.95" Drop Point
0.10" Blade Thickness
Half Stops
Slip Joint Folder
Nail Slot
Hand Rubbed, Milled Titanium Handles
0.40" Handle Thickness
Bronze Anodized Titanium Pivot Cap and Screws
Stainless Steel Backspacers
Hidden Lanyard
1.8 Ounces
3.95" Closed
6.9" Overall
The WE Knife Co Scamp is hands down one of the best mass produced modern slipjoints on the market and one of our favorite knives of 2019. It's a beautiful knife made with outstanding premium materials that combines form and function in a beautiful way. If you're interested in this knife, click any link in the article or simply click the button below.


All images courtesy of Smoky Mountain Knife Works – smkw.com.