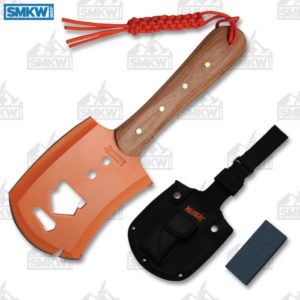 Every great once in a while, there's a thing. It's awesome. It's ridiculous. It's hiding right there in plain sight with an ignominious and tragic name. It's the Marble's Chopper.
We aren't ordinarily ones to write bad things about any knife – or other cutting utensils – but that's a boring name for such a fantastically awesome thing. We would have named it something different. Perhaps we'd have named it Merricat. Why? Because it's a wildly interesting character in an old book that we love.
Anyway. Back to the point. The Marble's Chopper is awesome! The malignant bamboo growing in our back yard shivers and trembles at the mere sight of Merricat. Why? It has two sharpened edges and one serrated edge. When we get bored hacking at the bamboo this-a-way, we can stab at it that-a-way. When we're bored with both, we can abrade the bamboo with the serrated edge, torturing it for its audacious desire to live.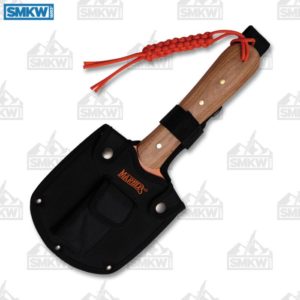 The Marble's Chopper is not a giant monstrosity. It's relatively small and compact. It has an overall length of about 13" (which means it still qualifies for free shipping).
The chopping part (the Editor insists it's called a "head" but, well, that just seems wrong) is 5" long and 4.25" wide. It has a thickness of 0.18". On the bottom sharpened edge, there's a wire cutter. There are hex cutouts in the center of the head as well as an oxygen key.
It's a full tang chopper with smooth, wood handles. It comes with a braided lanyard. The nylon sheath has a storage pouch for the included sharpening stone.
Marble's Chopper (a.k.a. Merricat) Details
Stainless Steel, Orange Coated
5" x 4" Head
Wood Handle
Full Tang
Brass Rivets
Nylon Sheath
Sharpening Stone
13" Overall
The Marble's Chopper might not be the only tool you need but it might be one of the more fun ones, even if it does have a boring name. To get this chopper, click any link in the article or simply click the button below.


All images courtesy of Smoky Mountain Knife Works – smkw.com.