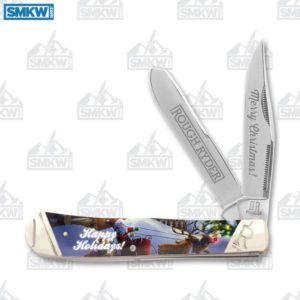 The Rough Ryder Merry Christmas 2019 Trapper is out and it's great. Everything about this trapper screams Christmas and its lenticular designed handles make it truly unique. It's also under $15, so this slipjoint is a perfect stocking stuffer. Rough Ryder does a Christmas trapper every year, and every year it sells out before Christmas. If you want to get this year's model, now is absolutely the time.
This knife features a Christmas themed lenticular design. That means depending on how you look at it, the picture changes. One side features Santa and Rudolph with "Happy Holidays" text. When you tilt it, the image changes to a log cabin with "Merry Christmas" text. The other side features the same sets of text with snow-covered trees in front of a starlit sky that lights up when you tilt it.
It has 440A stainless steel blades with a half stops, match strike pulls, and a frosted etch. The clip point has a "Merry Christmas" text and the spey blade has "Rough Ryder" text. It also comes packaged in a collectible box with a metal clasp and artwork.
Click any thumbnail in the gallery below to launch a slideshow of larger images.
Rough Ryder Merry Christmas 2019 Trapper
440A Stainless Steel, Frosted Etch
3.125" Clip and Spey Blades
Match Strike Pulls
Half Stops
Acrylic Handles
Lenticular Design
Nickel Silver Slant 'R' Bolsters
3.52oz
4.125" Closed
This Rough Ryder Merry Christmas 2019 Trapper will be a great gift this holiday season and an excellent Trapper for your holiday-carry. Get yours by clicking any link in the article or the button below.


All images courtesy of Smoky Mountain Knife Works – smkw.com.