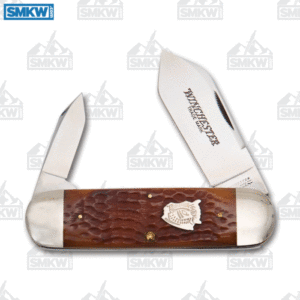 The grammar might make Editor's head hurt but there's no better descriptor for the Winchester Buffalo Shield series than "new old stock." These are older knives that have been sitting lost and forgotten on a factory shelf for a couple of decades or so. There are some seriously interesting patterns with some fantastic blade configurations. Even the jigging and shields on these knives are a bit different from anything you see on the market today.
Take, for instance, the 1996 Winchester Buffalo Shield sunfish. It was made in the USA, most likely by either Queen or Utica. This is apparently the first time they made this particular pattern with this shield. It has a jigging pattern on burnt orange handles that makes this old-new stock knife look more like something you'd see in a knife catalog from the early 1900s. It has simple nickel silver bolsters as well as brass pins and liners. The Buffalo Shield might be a touch large for some people, however, we think it's nice and suits the sunfish pattern beautifully.
It has a fat 3" carbon steel spear point main blade has a blade thickness of about 1/8". The secondary spear point is about 1/16″. Both blades have gorgeous swedging and open with a match strike pull. As far as the smooth opening and easy action on these knives? Well, they've been sitting on a shelf for about twenty years without being used, carried, or sharpened. Of course they need oil and a bit of work before it's a smooth, easy open. Honestly, that's one of the best things about new-old stock. Give an older knife the smallest bit of attention and instantly you have a brand-new knife.
Winchester Buffalo Shield Series Details
Carbon Steel, Mirror Polish
Spear Point Main and Secondary Blades
Slipjoint
Jigged Bone Handles
Brass Pins and Liners
Nickel Silver Bolsters and Shield
4.5" Closed
Made in the USA
Overall, the USA-made Winchester Buffalo Series make excellent additions to any pocketknife collection. To get these knives, click any link in the article or simply click the button below.


All images courtesy of Smoky Mountain Knife Works – smkw.com.