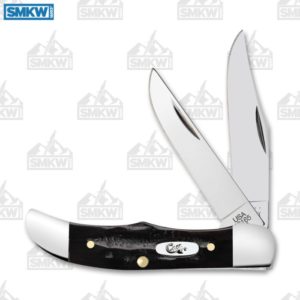 You've repeatedly asked, "What's the Case 2020 Vault Release?" and we've been unable to answer. Now we can. The 2020 Vault Release is the Case Pocket Hunter! We'll be the first to admit we weren't sure about this new vault release…until we held one. These are awesome little pocketknives that are like nothing else on the market at the moment. They look like they took the giant folding hunter we all know and love and shrunk them a bit. The small profile makes them a perfect daily carry for just about any occasion.
How Big Is It?
The Case Pocket Hunter is a mere 2.75" closed. For a size comparison, that's about half the size of most of the Case Folding Hunters. Case is making these with both one and two blade versions. Of course, they'll have a variety of handle materials like Jigged Buffalo Horn, Abalone, Yellow Synthetic, Natural Curly Maple, and Sparkxx Blue Pearl Kirinite. Right now, we've already decided to buy the Clover Sawcut Jigged Bone.
Notify Me
These little beauties aren't in stock yet, but Case assures us they're on the way. The best way to know the absolute minute the any of the Case Pocket Hunters is in stock is to click the "Notify Me" button at SMKW.com and enter your email address. As soon as it's available, you'll get an email notification.
If you're interested in the fresh-from-the-vault Case Pocket Hunter pattern, click any link in this article or simply click the button below.


All images courtesy of Smoky Mountain Knife Works – smkw.com.